Wall Street falls from record highs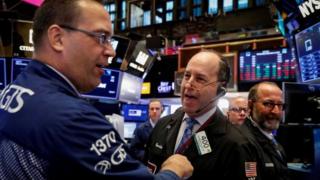 US stocks fell on Monday, with gains in the energy sector offset by losses in health care and telecommunications.
The drop came after a rally last week, fuelled in part by hopes that Washington will approve corporate tax cuts.
The Dow Jones slid 12.6 points, or 0.06%, to 22,761, while the wider S&P 500 slipped 4.6 points, or 0.18%, to 2,544.7.
The tech-heavy Nasdaq fell 10.4 points, or 0.16%, to 6,579.7.
Wall Street has been trading in record territory, after a rise earlier in the year analysts attributed to global growth, optimism over chances for business-friendly changes from US President Donald Trump and strong corporate results.
On Monday, energy firms gained as oil prices stabilised and production platforms in the Gulf Coast started to resume operations after Hurricane Nate.
Chevron was up 0.6%, while Exxon Mobil climbed 0.4%.
Bank stocks, including Goldman Sachs and JP Morgan Chase dipped in advance of their latest results this week.