Royal Mail takes legal action to block postal strike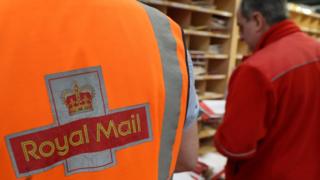 Royal Mail has said it will take legal action in an attempt to stop thousands of workers walking out this month.
The postal firm said it would apply for an injunction at the High Court to prevent the industrial action.
Royal Mail workers are set to strike for 48 hours from 19 October in protest over pensions, wages and jobs.
The company said the strike would be "unlawful" if the Communication Workers Union (CWU) did not follow dispute resolution procedures.
Royal Mail had given the postal workers trade union until midday to withdraw the strike threat. After the union refused, Royal Mail said it would go ahead with filing the court application.
CWU general secretary Dave Ward said: "The fact Royal Mail Group have tried multiple angles to stop our members exercising their democratic right to take strike action shows how desperate they are. Instead of playing court room politics, they should be listening to the overwhelming ballot result."
His deputy, Terry Pullinger, added that Royal Mail was trying to stop postal workers "exercising our right to strike and will only anger members further".
The industrial action follows an 89.1% vote in favour of a strike last week following a ballot of the CWU's 110,000 members.
The union said the company's move to reform workers' pensions meant its members would lose up to a third of their retirement entitlements.
A Royal Mail spokesperson said: "We have never hidden the fact that benefits members build up in the future will be smaller than they are now. That is because, unfortunately, the plan in its current form is unaffordable.
"If no changes are made, contributions to the plan would more than double in 2018, from around £400m a year to £1.26bn a year."
The CWU vote, which had a 73.7% turnout, was the first major ballot since the introduction of the Trade Union Act, which requires a 50% turnout.
The union did not rule out further strike action in addition to the 48-hour walkout later this month.
Shares in Royal Mail closed 0.8% higher at 381.4p, but have fallen 17% this year.