Staycation trend cuts debit card use overseas, says UK Finance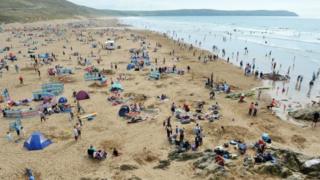 UK tourists' debit card spending when abroad was down sharply compared with last summer, suggesting a move to staycations as sterling weakened.
Spending on UK debit cards overseas was down nearly 13% in August compared with the same month in 2016, figures from trade body UK Finance show.
A total of £3.16bn was spent overseas in August, up slightly on July, but down from £3.61bn of August 2016.
Overall, debit card spending has risen, as has the use of contactless payment.
Spending on UK debit cards overseas has fallen since the start of the year, and UK Finance said that the strength of the pound was one factor.
"This decrease, in part, highlights the growing consumer preference to holiday in the UK as sterling's purchasing power abroad has weakened considerably since the Brexit vote," the body said in its monthly debit card report.
UK tourists have also been alerted to the potential risks of charges applied on the use of cards when overseas.
Shops, restaurants and cash machines are offering tourists the option of paying in pounds rather than the local currency and applying a poor exchange rate if they take up the offer.
In July, analysis for the BBC revealed that this cost UK tourists an estimated £500m a year. Currency trader FairFX found that on some transactions tourists could lose up to 10% by paying in sterling rather than the domestic currency.
Growth of contactless
The UK Finance figures showed that domestic spending on UK debit cards was rising.
During August, domestic spending totalled £43.4bn, up 0.8% on July. This was the strongest growth rate for 11 months, which the trade body said was explained in part by the rising rate of inflation.
Average monthly spending per card increased for the fifth consecutive month reaching £476, up from £442 a year ago.
However, the average amount spent on each use of a debit card continued to fall, owing to the rising popularity and prevalence of contactless payments for low-value purchases in place of cash.
The average payment of £37.31 in August was the lowest since February 2002, and is down from a peak of £48.60 in June 2010.