More than 60% of Monarch passengers back in the UK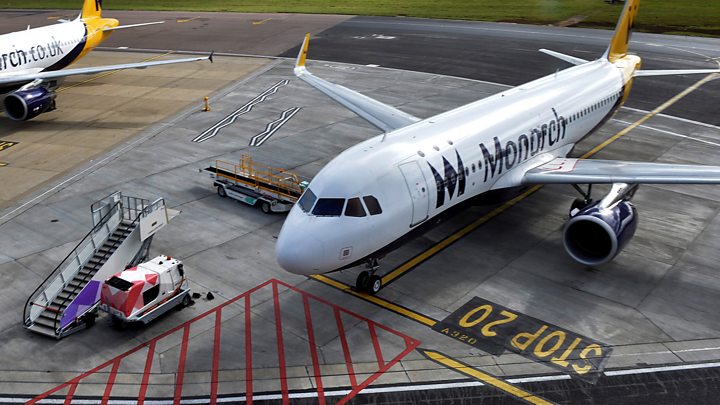 More than 60% of holidaymakers left overseas when Monarch Airlines collapsed have now flown back to the UK, the Civil Aviation Authority says.
The CAA stepped in after all of Monarch's flights and holidays were cancelled, leasing and chartering planes from 16 different countries.
On Saturday, 51 flights carried more than 11,000 people back to UK airports, bringing the total to 67,522.
The collapse of the 50-year old company is the largest ever for a UK airline.
By Sunday morning, more than 350 flights chartered or leased by the CAA had brought Monarch customers back from their destination.
It said the vast majority of the 110,000 passengers who were on holiday and booked to fly home with the airline when it went into administration will be back in the UK by next weekend.
The CAA called the flight operation "the biggest peacetime repatriation effort", and still expects it to cost close to £60m.
The bill will be met by the government and a trust run by the UK's holiday industry licensing body Atol, which collects a levy on all holiday packages sold in the UK.
The CAA also suggested Monarch passengers with Air Travel Organiser's Licence (Atol) protection should have their refunds within 28 days of submitting a claim.
The organisation is expecting £21m worth of payouts to rectify around 32,000 claims.
KPMG. the administrators for the now-defunct airline, has estimated that just 10-15% of Monarch customers have bookings protected by Atol.
The scheme only covers package holidays or Monarch flight-only bookings made before 15 December 2016.
Those without Atol protection will be forced to seek refunds from their credit or debit card supplier or through travel insurance.
CAA chair Dame Deirdre Hutton earlier told the BBC it could not act before Monarch's announcement, even though it was known the firm was in difficulty.
"The regulator really can't step in until a company goes into administration, that is completely a matter for the company directors," she said. "It would be neither possible nor legal for us to give out confidential financial information while a company is still operating legally.
"Monarch didn't own the planes, the planes were leased, so as soon as the company went into administration, the owners of the planes took them back and that's why we've had to acquire planes from 16 different countries."
Advice to Monarch customers
Customers currently overseas and due to fly home between now and 15 October will be brought back to the UK at no cost to them. There is no need to cut short a stay.
Travellers should check monarch.caa.co.uk for confirmation of their new flight details - which will be available a minimum of 48 hours in advance of their original departure time.
Those with flight-only bookings after 16 October are unlikely to have Atol scheme protection, so will need to make their own arrangements.
All affected customers should keep checking monarch.caa.co.uk for more information
The CAA also has a 24-hour helpline: 0300 303 2800 from the UK and Ireland and +44 1753 330330 from overseas