Wall Street holds steady after jobs report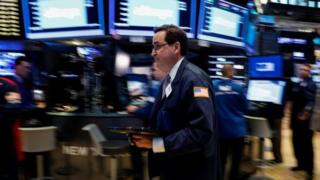 Wall Street held steady on Friday, closing the day almost unchanged after new economic data from the US Labor Department showed the first monthly jobs decline since 2010.
The report said US payrolls fell by 33,000 jobs in September due to disruption from major hurricanes.
Markets initially fell on the news, but regained ground, led by technology firms.
The tech-heavy Nasdaq inched up less than 4.82 points to close at 6,590.18.
The Dow Jones Industrial Average fell 1.72 points to 22,773.67, while the wider S&P 500 slipped 2.74 points, or 0.11%, at 2,549.3.
US markets have been trading in record territory in recent days, and finished higher for the week.
But on Friday the declines were spread across the stock market, with most sectors of the S&P lower.
Concerns about competition from Amazon fuelled some of the steepest losses.
The supermarket industry is facing upheaval, as discount shops from Europe try to make inroads and Amazon stakes its claim to the market with its takeover of Whole Foods.
Discount grocery chain Costco was lower, after the firm reported earnings that showed shrinking margins. The concerns spread to Target, which saw share prices fall by more than 2%. Walmart share also slipped.
A report that Amazon is gearing up to enter the pharmacy market also caused losses.
Shares in CVS Health and Walgreens both dropped by more than 5%.