Fearless Girl statue firm faced down in equal pay row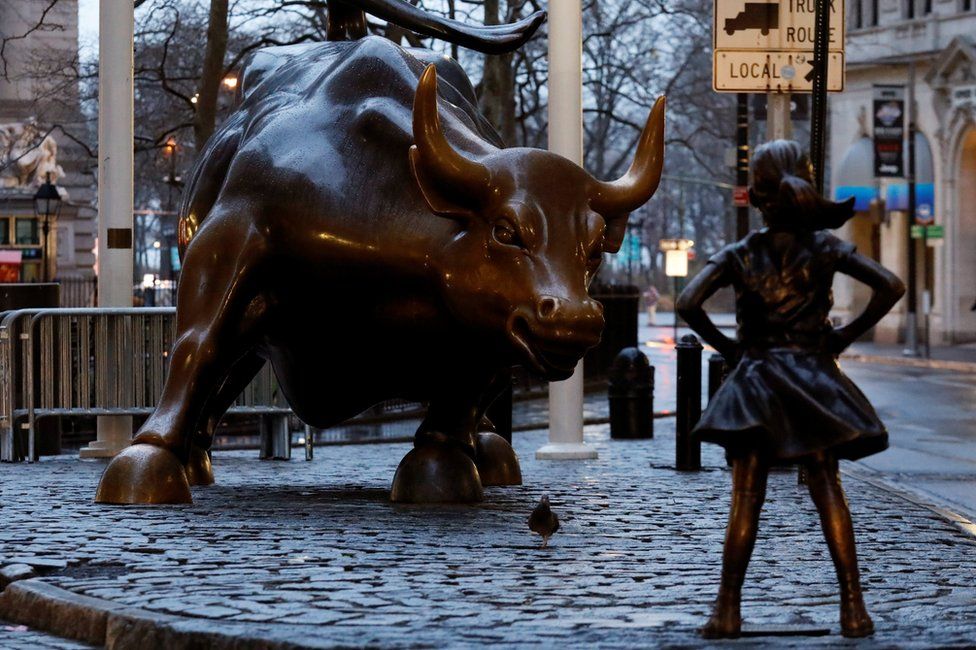 The statue of a young girl staring down Wall Street's famous stock market bull was installed to draw attention to gender inequality and the pay gap in the corporate world.
But in an ironic twist the firm behind the Fearless Girl statue will pay $5m (£3.8m; €4.3m) in a row over equal pay.
State Street Global Advisors (SSGA) has been accused by the US Department of Labor of paying hundreds of female executives less than male colleagues.
The firm denies the claims.
It said it wanted to bring an end to the matter.
The fund manager will pay the settlement to more than 300 senior female staff which were paid less than their male counterparts, according to the Department of Labor.
The disparity was uncovered during a 2012 pay audit.
The settlement also covers allegations that the firm paid 15 black employees less than their white counterparts.
State Street has denied any pay discrimination for both its female and black employees.
In a statement, the firm said it was "committed to equal pay practices" and that it "evaluates on an ongoing basis our internal processes to be sure our compensation, hiring and promotions programs are non-discriminatory."
It's not the first time that the statue has attracted controversy.
When State Street commissioned the statue by artist Kristen Visbal it said the girl represented the future.
It added that one in four of the 3,000 largest traded US companies did not have even one woman on their board.
But the sculptor behind Wall Street's Charging Bull statue said that the new sculpture's presence changes the artistic meaning of his famous statue.
Italian-born sculptor Arturo Di Modica Di Modica argued the girl is not a work of art, but rather an "advertising trick" since it was sponsored by investment firm State Street Global Advisers, and erected by advertising firm McCann.
Installed in 1989, the bronze bull was meant to represent the "strength and power of the American people" in response to the market crash in 1987.