EasyJet sees record passenger numbers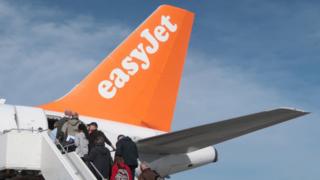 EasyJet says it saw record passenger numbers over the summer and predicts strong annual profits.
The airline said it carried 24.1 million passengers during the three months to the end of September, with 95.6% of seats filled.
EasyJet added that its profits for the financial year to 30 September were expected to be between £405m and £410m, at the upper end of estimates.
This was "a good performance" in a "rapidly evolving" market, it said.
Easyjet chief executive Carolyn McCall said: "EasyJet has finished the year with continued positive momentum, delivering both a strong final quarter and a strong second half.
"Passenger numbers and load factor in the final quarter set new records and the second half profit was over £100m higher than summer 2016."
---
Analysis: Theo Leggett, business correspondent
Record passenger numbers and high load factors - yet Easyjet is expecting to make lower profits this financial year than it did in 2016. So what's the problem?
A big factor is currency movements. Easyjet reckons the decline in the value of the pound will cost it £100m. There's a good reason for this. Half of its revenues are in sterling, but only one-third of its costs.
Then there's the state of the market. For much of the past year, there has been a glut of capacity on many short-haul routes, particularly to popular holiday destinations. That has brought down fares, and benefited consumers, but made life harder for the airlines themselves.
The collapse of Monarch and the bankruptcies of Air Berlin and Alitalia reflect just how tough life in the industry has become - but they could also mean that the cut-throat competition starts to ease up.
There's another plus point for the airline. As long-term fuel hedges expire, it's starting to see bigger benefits from the falls in the oil price over the past couple of years, which is helping to bring down its costs.
So next year may be easier.
---
Ms McCall said the market continued to be "challenging", while the airline had had to absorb "a significant currency impact" of £100m over the year.
"However, EasyJet continues to operate Europe's strongest network and the current turmoil in the sector provides EasyJet with opportunities to capitalise on its strong customer proposition and grow and strengthen our positions in Europe's leading airports still further."
By contrast, EasyJet's biggest rival, Ryanair, carried 37.1 million passengers during the same quarter and filled 97% of available seats.
Although Easyjet's predicted profits are healthy compared with expected levels, they are still lower than the £495m it reported last year and the £686m recorded in 2015..
Last week, EasyJet said it was backing plans to develop commercial passenger aircraft powered by electric batteries instead of conventional aero engines.
It wants the proposed planes to fly passengers on its short-haul routes, possibly within 10-20 years.