Catalan bank moves legal base amid independence turmoil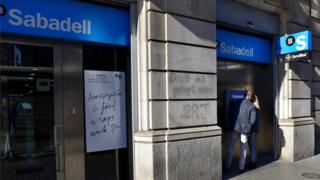 Sabadell, the Barcelona-based bank, said it will move its legal base out of Catalonia following threats by the region's leaders to declare independence.
Spain's fifth-biggest bank said it would start the process on Friday to move its legal domicile to Alicante.
Its headquarters and employees will remain in Barcelona.
The board of CaixaBank will meet on Friday to consider a similar move, Reuters reported.
Caixa is Spain's third-largest bank and accounts for about half of Catalonia's banking sector.
Sabadell said: "Banco Sabadell has adopted this decision in order to protect the interests of our customers, shareholders and employees."
It went on to say it it wanted to operate "under the supervision of the European Central Bank and the regulations of the European Banking Authority", something that would be removed were Catalonia to declare independence.
The European Union has said it will not recognise an independent Catalonia, which would mean the region would not be subject to EU rules nor protection.
Shares in Sabadell, the second-biggest bank in Catalonia and the fifth largest in Spain, have fallen 10% this week as the political crisis between Catalonia and Madrid deepened.
They closed more than 6% higher on Thursday, while Caixa shares added almost 5%.
Sabadell bought TSB, the bank formerly owned by Lloyds, for £1.7bn in 2015.
Reports said the Spanish government will issue a decree on Friday making it easier for companies to move their legal base out of Catalonia.
Such a move could hit the region's finances as it considers declaring independence, possibly as soon as Monday.
The decree would allow CaixaBank to transfer its legal and tax base without needing to hold a shareholders' meeting as stated in its statutes.
The Spanish government and Caixa both declined to comment.
Catalonia accounts for a fifth of Spain's economy, with factories for companies including Volkswagen and Nestle as well as Europe's fastest-growing sea port of Barcelona.
Volkswagen briefly stopped production on one line at its Seat plant in Catalonia when protests disrupted parts supply. Stoppages also affected production at Nestle's instant coffee plant in Girona.
The Catalan business lobby Cercle d'Economia said it was extremely concerned by the prospect of Catalonia declaring independence and called for leaders from both sides to hold talks.
Dutch paint maker Akzo Nobel, which has several plants in Catalonia, said it was monitoring developments.
Spain's constitutional court has suspended next Monday's session of the Catalan parliament, in a bid to pre-empt a possible push for independence.