Canada start-up Shopify targeted by short-seller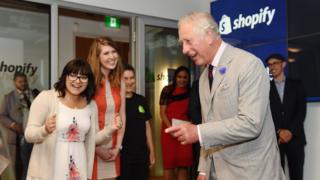 Shopify, one of Canada's most famous start-ups, is defending itself after a short-selling firm launched a campaign against the company.
Shopify is known for providing software and payment-processing to small and medium-sized businesses that want to sell online.
But Citron Research says the bulk of the firm's customers are not merchants as is commonly understood.
The firm's stock is down more than 11% since Citron made its claims.
Citron, which was founded by short seller Andrew Left, says Shopify is reliant on people who see the platform as a get-rich-quick opportunity, using it to advertise products that are actually supplied by other businesses.
Mr Left says Shopify's business model doesn't justify the price of the firm's shares, which were valued at more than $116 (£88) before the attack.
He said the firm is really worth about half that.
'Accusations and theatrics'?
Short sellers make money when a company's stock declines.
Shopify, which was founded in Canada in 2004, said in a statement it stands "resolutely behind our mission and the success of our merchants".
The Ottawa company, which counts Nestle, Red Bull and GE as clients, has been hailed as a star of Canada's start-up scene.
Prime Minister Justin Trudeau and Prince Charles have been among visitors.
In August, the company said it "powers more than 500,000 businesses" in 175 countries. That was up from about 377,500 at the end of 2016, according to its annual report.
In its statement, Shopify said stores using its platform generated $10.7bn in merchandise volume in the first half of 2017.
Despite the growth, the firm has posted losses, including $37.2m in 2016.
Shopify's share price hit a low of about $95 in early trading on Thursday, but regained ground to top $100 by mid-day.
Financial analysts who follow the company downplayed the Citron claims, arguing that the firm's business model is tied closely to actual merchandise sales.
Macquarie analysts wrote that they believe the share of "shady" customers is small - about 2-3%.
"The report yesterday was high on accusations and theatrics but short on empirical data, logical discourse and rigorous analysis," they wrote.
"We believe the author lacks a fundamental understanding of Shopify's value proposition, competitive advantages, opportunities, business model potential and financial capabilities."
Citron also argued that Shopify's marketing strategies may run afoul of US regulator rules.
But Kenneth Wong of Citigroup says that risk is limited because Shopify's "core business bears little resemblance to a multi-level marketing scheme as its core platform".