Deltic sets out merger plans for Revolution Bars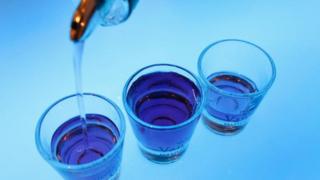 Nightclub operator Deltic Group has set out its plans for a merger with Revolution Bars, even though its approach has already been rejected.
Under the terms of the proposal, existing Revolution shareholders would own 65% of the new company, while Deltic would own the remaining 35%.
The merged group would be run by the current Deltic management team.
However, Revolution favours a £101.5m takeover offer by Slug and Lettuce owner Stonegate.
It has dismissed Deltic's proposal as "not in the best interests of shareholders at this time".
Now Deltic says it wants to bypass the management and speak directly to shareholders.
Deltic said it had been "disappointed" by Revolution's "complete rejection" of its proposals, which it said represented "a compelling value creation opportunity".
Deltic is still considering whether to make a firm offer for Revolution, while Stonegate's bid of 203p a share is already on the table.
Under City takeover rules, Deltic must declare its intentions by 17:00 on 10 October.
'Slow and defeatist'
Revolution, which owns more than 60 High Street bars, suffered a sharp drop in its share price in May after it said it was facing "well-published sector cost headwinds".
It said its costs had risen because of the National Living Wage, a new apprenticeship levy and above-inflation increases in business rates.
Earlier this week, Revolution said its pre-tax profits for the 12 months to 1 July had fallen by 29% to £3.6m.
Deltic said in a statement that Revolution was "a great business in its own right" that would benefit from "a more focused and effective management team".
It said the bar chain's existing management had been "slow and defeatist" in responding to challenges.
The company added that it had determined that the proposal was "best shared directly with Revolution shareholders, as it is they who ultimately need to determine the future of Revolution".
"The combination of Revolution and Deltic would create a strong business of significant scale and expertise in the UK's late-night market, with both entities exhibiting a similar modus operandi," Deltic said.
"The town centre market remains fragmented and a combination of Deltic with Revolution will be well placed to penetrate their local markets alongside other operators of scale, such as Wetherspoons, Stonegate and Mitchells & Butler."