Car finance not a cause for concern 'per se' says regulator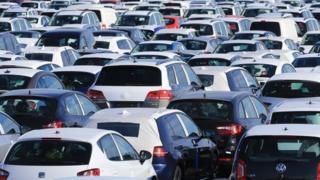 The UK's chief financial regulator has downplayed concerns over households' increased use of car loans.
The Bank of England has previously warned that a rise in personal loans, including car finance products, could contribute to financial instability.
But Andrew Bailey, head of the Financial Conduct Authority, said car loans were not "per se bad".
However, overall levels of consumer indebtedness were worrying, he said.
Speaking to an audience at Mansion House in London, Mr Bailey said the increase in borrowing to lease cars through personal contract purchase plans (PCPs) simply indicated a change in consumer attitudes to ownership.
"We are not at all complacent about the overall consumer credit situation, but I don't regard, for instance, the shift to PCP based lending as per se bad," he said.
"It seems to me to recognise the nature of a car as an asset, that is, consumers are comfortable renting rather than owning the car."
But he said there were issues with how well consumers understood the products.
Car finance debt has rocketed in recent years, driven by the development of new products such as PCPs which allow consumers to pay monthly instalments over several years for the use of a new car, then either trading it in for a new one or buying it for a lump sum.
The FCA and the Bank of England have warned in the past that higher overall levels of personal borrowing could result in widespread defaults, in an economic downturn or if interest rates rise sharply.
Last week, the governor of the Bank of England, Mark Carney said: "What we're worried about is a pocket of risk - a risk in consumer debt, credit card debt, debt for cars, personal loans".
Mr Bailey said the FCA was "not complacent" over the growth in consumer credit overall, and highlighted the high cost of credit used by the less well off as cause for concern.
UK consumer debt
Motor finance £58bn
Credit card debt £68bn
Overdraft credit by the main high street banks £7bn.
Total consumer debt £200bn
Mr Bailey said around five million people were struggling with expensive debt, including credit card borrowing, paying as much as £2.50 in interest for every pound they repay.
He said unarranged overdrafts were another source of concern since charges were often higher than the cap that has been imposed on payday lenders.
"Many consumers don't seem to know the cost implications of using unarranged overdrafts - or even that they have used them at all," he said.
"We wonder about the role of a so-called unarranged product in today's banking market and are assessing whether fundamental change is needed to this aspect of current account services."