Tesco says turnaround is on track as sales rise again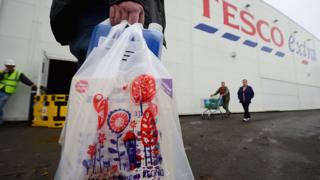 Tesco chief executive Dave Lewis has said the supermarket's turnaround is "very firmly on track" as sales rose for the seventh quarter in a row.
Like-for-like sales, which exclude new store openings, rose 2.1% in the second quarter, just short of City forecasts.
Pre-tax profit was also up, rising to £562m for the first half compared with £71m for the same period last year.
Tesco said it would pay a dividend for the first time in three years, which it said reflected "board confidence".
The last time Tesco paid a dividend was in the 2014-15 financial year, just before the supermarket group shocked the market in admitting it had overstated profits by about £250m.
The UK's largest supermarket chain will pay an interim dividend of 1p per share, and said it expects to pay a larger final dividend of around 2p per share.
"Sales are up, profits are up, cash generation continues to strengthen and net debt levels are less than half what they were when we started our turnaround three years ago," Mr Lewis said.
Tesco's shares rose initially after the results, but quickly fell to trade almost 2% lower.
Hargreaves Lansdown analyst Laith Khalaf said the fall was due to the supermarket's sales growth slowing slightly from the first quarter, when like-for-like sales rose 2.2%.
"In any set of company results, there are always negatives the market can dwell on, and that applies in spades for a company like Tesco, which is in the process of recovering to full health," he added.
---
Analysis: Simon Jack, BBC business editor
It was almost three years ago when Dave Lewis gave me his first broadcast interview.
It was to announce a £250m black hole in Tesco's accounts.
Sales had been falling off a cliff and the company went on to report the biggest loss in UK retail history.
How things have changed.
Sales and margins are now growing, its market share has stabilised from the onslaught of the discounters and, in an important show of confidence, Tesco has started paying a token dividend again.
It's not been pain-free. Thousands of jobs in stores and offices have been cut by "drastic" Dave Lewis.
It will probably never enjoy the profitability it had 10 years ago. The competition is very different now and when you have a market share of 28%, growth is hard to come by.
Good retailers know that smugness is a dangerous quality, but Mr Lewis will be looking forward to Christmas a lot more than he was three years ago.
---
In the UK, Tesco said that fresh food in particular had performed well in the six months to 26 August, with sales up 1.5%, and was now in 70% of customers' baskets.
The supermarket has come under fire in recent days after alleged food safety breaches at one of its chicken suppliers, 2 Sisters.
Mr Lewis said that he was "as shocked as anybody" when the reports emerged, but said it would continue to use the supplier.
He said that Tesco executives and food safety officials visited the plant on Friday and did not find any issues.
The plant has suspended operations while it retrains staff.
Tesco's fresh food and farm brands labels have been credited with helping it to compete with discount rivals Lidl and Aldi.
The supermarket said that despite "challenging" market conditions, it had "worked hard with our supplier partners to minimise price increases for customers".
It said this was helping it to become "even more competitive".
The UK's inflation rate is currently at its highest level in five years at 2.9%.
The supermarket has been battling to recover from its 2014 profit scandal, rising costs as well as continuing competition from the German discounters.
Sanford Bernstein analyst Bruno Monteyne said the results showed that Tesco was recovering in the UK, while its troubled international operations were also improving.
"Total scorecard: Dave Lewis is really delivering," he told the BBC's Today programme.
Although the restored dividend is modest, he said it sent an important signal and was a "sign of confidence" from management about Tesco's prospects.
Booker deal
The results come as Tesco is awaiting the results of an in-depth competition inquiry into its proposed £3.7bn takeover of wholesale giant Booker.
The Competition and Markets Authority (CMA) is expected to report its provisional findings next month, with a final decision due in December.
The CMA has said there are 350 areas where there is an overlap between Tesco shops and Booker-supplied independent stores.