Wells Fargo boss should be fired, says senator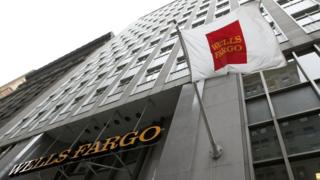 Washington senators have criticised Wells Fargo, saying the US bank had not done enough to reform the corporate culture that led to the creation of millions of fake accounts.
Senator Elizabeth Warren called for the chief executive, Tim Sloan, to be fired and board members replaced.
Another senator asked if regulators should revoke the bank's charter.
Mr Sloan, who was appointed following the scandal over sales practices, said the firm had taken steps to improve.
"We've made fundamental changes to the way we do business," he said at a congressional hearing in Washington on Tuesday.
The hearing occurred about a year after Wells Fargo leaders appeared in Washington to speak about the fake accounts, which were used to boost sales figures.
Regulators fined the the bank more than $180m over the those practices last year. Wells Fargo also agreed to pay more than $140m to settle a class-action lawsuit.
But this summer, Wells Fargo said as many as 3.5 million accounts may have been created for customers without their permission over about eight years - more than it had previously acknowledged.
It has also said it had uncovered problems with the bank's online payment system and admitted to wrongly charging customers for car insurance.
On Tuesday, Mr Sloan, a long time executive at the bank, maintained the most serious problems were limited to the firm's retail banking unit.
Senators criticised the company for the additional problems and continuing to force customers to pursue claims outside of court, among other practices.
"Wells Fargo is not going to change with you in charge," Ms Warren said.
Ms Warren had called for the resignation of the firm's previous chief executive as well.