Airlines lift Wall Street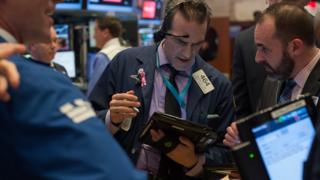 Airline companies helped lift US markets on Tuesday, after Delta Air Lines reported that the hit from recent hurricanes would be lower than analysts had expected.
Car companies also gained after reporting strong US sales.
The Dow Jones rose 84.07 points, or 0.37%, to 22,641.67, while the wider S&P 500 climbed 5.46 points to 2,534.58.
The tech-focused Nasdaq increased 10.07 points to 6,526.79.
Delta said Hurricane Irma resulted in about 2,200 cancellations and cost about $120m. That was less of an impact than investors had feared, causing shares to jump by more than 6%.
The optimism spread to other airlines as well. United Continental shares increased by more than 6%, while American Airlines shares rose about 5.8%.
US automakers also reported strong sales, lifted in part by purchases in areas hit by hurricanes.
Shares in General Motors jumped more than 3% and Ford increased by 2%
Shares in electric carmaker Tesla also recovered after falling in early trade after it failed to hit its production target for the Model 3 vehicle.
The company blamed "production bottlenecks" for making just 260 Model 3s in the third quarter, compared with its target of 1,500.