Royal Mail staff vote to strike over pensions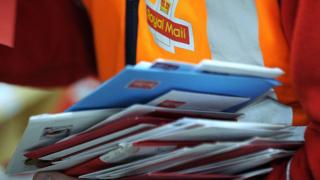 Royal Mail workers have voted in favour of strike action in a row over pensions and pay.
The Communication Workers Union (CWU) said 73.7% of its 110,000 members cast their votes, with 89% backing a strike.
It is the first major vote since the introduction of the Trade Union Act, which requires strike votes to have a 50% turnout.
The CWU said the postal executive will meet later this week to determine any potential strike dates.
Earlier this year, the Royal Mail announced that it would close its current defined benefit scheme in March 2018.
Although the pension fund is currently in surplus, Royal Mail, which was privatised in 2013, claims that its current annual contribution of £400m a year would swell to £1.26bn.
The CWU said that the vote was "was sparked by the company's attack on the pension rights of hard-working postmen and women and the refusal of the employer to engage seriously over pay, working hours, future job security and the need to improve and grow the service to the public".
Legal procedures
Royal Mail said that it was "disappointed" by Tuesday's result, insisting: "There are no grounds for industrial action. We want to reach agreement."
It added that the dispute was subject to legally binding contractual resolution procedures which were likely to last until Christmas and maybe beyond.
"We believe these dispute resolution procedures must be followed. The union cannot take industrial action until they have been completed," Royal Mail said.
Royal Mail claims that it has offered to continue working towards a new pay deal, including a rise of up to 5% over two years depending on, among other things, improvements to productivity.
"Industrial action is damaging for our business. It undermines the trust of our customers. It makes it harder to pay for the great terms and conditions we provide for our employees. National industrial action means the current offer from Royal Mail, including on pensions, will be taken off the table," it added.
Terry Pullinger, the CWU's deputy general secretary, postal, said: "This ballot result is hugely significant and demonstrates a strength of feeling that can only be translated as a massive vote of no confidence in the managerial leadership of the Royal Mail Group and the direction that they advocate."