N Brown boss tells women to steel themselves for leadership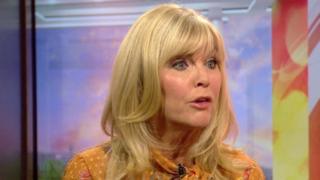 N Brown group chief executive Angela Spindler knows what it's like to be the only woman in a room full of men.
When she was at retail giant Asda 20 years ago, women in her position were rare: "I'd go to a networking event or a conference and I would be the only female among 100 men."
She says that's not the case now, but accepts women are still scarce at the top and some women still find it scary.
Her advice: "You have to just steel yourself and go for it."
Ms Spindler runs N Brown, which owns plus-size clothing brands Jacamo, Simply Be and Marisota.
After a degree in psychology she worked in marketing at confectionary giants Mars and Cadbury.
She then moved on to senior jobs at Asda and Debenhams, where she became that rare woman at the top.
She says one of the key things needed to help boost women's presence at a senior level would be to strengthen the pipeline of candidates available:
"It is the responsibility of recruiters that feed the industry to always make sure there are female candidates.
"I'm not talking about positive discrimination, but getting their names on the list."
Ms Spindler says if she sees a list of candidates without a woman's name on it she "sends it straight back."
She says you need three things to be successful in business: "You need to be good at something, you need ability - some work at it some are born that way - you need to be lucky and in the right place at the right time, and you need to be brave, you've got to have courage.
"You've got to take things in your stride and that's where women have got to steel themselves and just go for it."
Women sometimes fall down on that last point, she says: "It's expected of men that they are going to be successful in their careers, it's more unusual for women to get to the top of the ladder. It's got to come from inside.
"A lot of it is to do with will, determination and personality."