What went wrong for Monarch?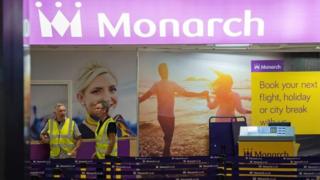 One thing that Monarch lacked was scale.
Its fleet of thirty or so aircraft was dwarfed by its competitors like Easyjet and Ryanair who have 200 and 300 respectively.
When terror attacks in Egypt, Tunisia and Turkey saw the industry refocus on the Western Mediterranean, competition became intense and prices fell.
Monarch could not achieve the economies of scale the big players could.
Management realised this and made progress on tie-ups with several interested parties.
Company sources tell me that those talks were derailed by uncertainty surrounding the future regulation of the UK aviation industry thrown up by the Brexit vote.
The fall in the value of the pound after the vote also pushed up the cost of fuel and aircraft leases which were priced in dollars adding £50m per year to their costs.
It was operating in a viciously competitive market, it was too small to absorb any additional costs and potential partners wanted to wait for more clarity on post Brexit airline regulation.
Brexit didn't kill Monarch on its own but it added cost and helped shut off some of its potential escape routes.