Uber: We are determined to make things right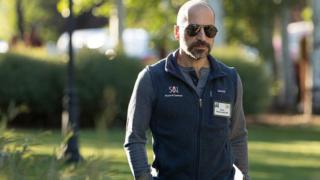 Uber has said it is "determined to make things right" following a meeting with London's transport commissioner to discuss the loss of its licence.
A spokesperson for the taxi-hailing app said the meeting was "constructive" and that it hoped to have more discussions.
TfL said talks "centred on what needs to happen to ensure a thriving taxi and private hire market in London".
Uber's licence expired on Saturday but its drivers can continue to operate in the capital while it pursues an appeal.
TfL's spokesperson said the meeting was about a market "where everyone operates to the same high standards".
"Further steps in this process will take place over the coming weeks," they added.
Uber's new chief executive Dara Khosrowshahi met Mike Brown, who runs Transport for London, which has criticised the firm's record over reporting criminal offences and carrying out driver background checks.
TfL said earlier that Mr Brown was holding the talks with the taxi-hailing app firm's global chief executive following an approach from the company and at London Mayor Sadiq Khan's request.
The regulator decided not to renew Uber's London licence last month after it deemed the firm "unfit" to run a taxi service.
An Uber spokesman said the firm had yet to file an appeal, but the company has indicated it will do so before a 13 October deadline.
The meeting comes as Mr Khosrowshahi faces pressure in the US over former Uber boss Travis Kalanick's influence over the company's board.
Mr Kalanick, who is still one of the firm's biggest shareholders, appointed two new directors in a surprise move on Friday.