All ministers are sackable - Chancellor Philip Hammond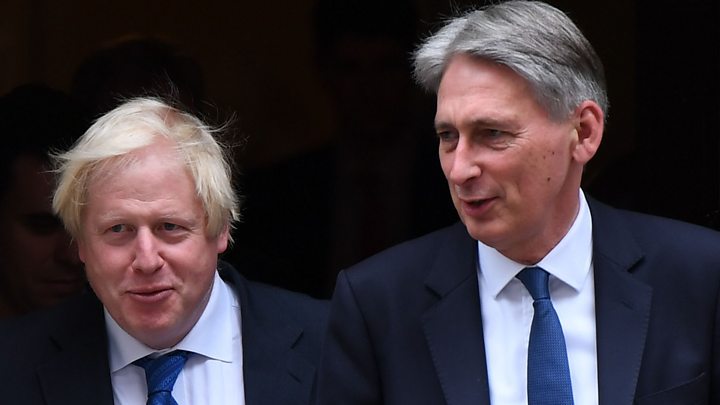 Philip Hammond has said he operates on the basis "everyone is sackable", amid continued Brexit cabinet tensions.
All ministers serve at the discretion of the PM, the chancellor told the BBC.
Foreign Secretary Boris Johnson's repeated Brexit interventions in recent weeks have prompted calls from some in the party for him to be replaced.
Mr Hammond said his colleague's comments were "rhetorical flourish" but the cabinet was agreed on a transition period of "around two years".
This, he told the BBC, would give businesses the "certainty and comfort" to plan ahead.
Theresa May has said her plan for a two-year implementation period after the UK leaves the European Union in March 2019, which she set out in last month's Florence speech, has the full backing of the cabinet.
In an interview on Sunday, she side-stepped a question about whether the foreign secretary, who set out a number of his own Brexit "red lines" in a newspaper interview over the weekend and said a transition should last "not a minute" longer than two years, had become "unsackable".
Some MPs have reportedly been lobbying for Mr Johnson's removal, saying his comments about the terms of the UK's exit were a direct challenge to the PM's authority.
However, others continue to back him, saying his views are not at odds with the government's stated position of wanting to minimise the disruption to business while delivering on the result of last year's referendum.
Asked on Monday about Mr Johnson's position, the chancellor - who has himself between criticised by some Tory MP for being too pessimistic about Brexit - said all ministers served at the prime minister's discretion.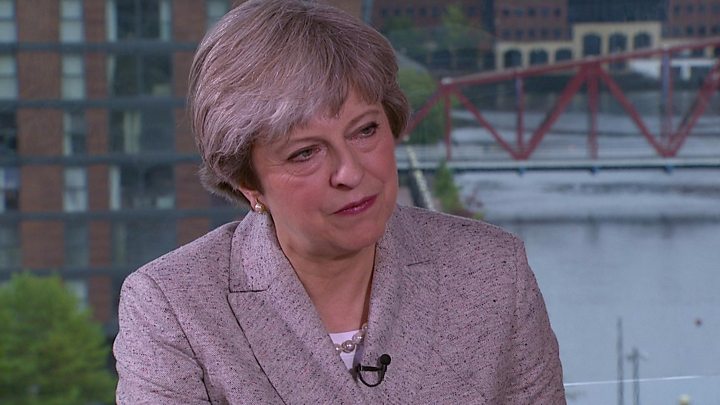 "I always operate - I think it is a sound and cautious principle - on the principle that everyone is sackable," he told BBC Radio 4's Today programme.
The chancellor said he had initially argued for a transition phase of up to four years but the cabinet, including Mr Johnson, had united behind a "time-limited interim period of around two years" which he suggested offered both flexibility and a "degree of precision".
"We have come to this agreed formula of about two years which works for everyone," he told Today.
"That leaves us some flexibility but a degree of precision that business needs to start planning.... a transition of about two years will take the immediate pressure off business...If we don't give businesses clarity about the future, they will have to make decisions assuming the worst possible outcome.
"What we are hearing from business is a plea... 'don't put us in a position where we have to assume the worst and act accordingly - give us the comfort and certainty we need'."
In his keynote speech to the conference, Mr Hammond said a freer, more prosperous UK was the "prize" on offer from Brexit but that people should be aware that this outcome could not be taken for granted.
"If we get this right - Britain will have a bright future beyond Brexit," he said. "But to get to it, we must be clear-eyed about the challenges along our way.
"We must not downplay the difficulties nor underestimate the complexities. This will be one of the most challenging tasks ever undertaken by a peacetime government but with focus and determination and unity, we will succeed."
Business leaders have warned they are "growing impatient" with divisions at the heart of the government, with the British Chambers of Commerce saying it risks undermining business confidence.
It called for ministers attending the Conservative Party conference to show "competence and coherence".
The organisation's director general Adam Marshall said: "Public disagreements between cabinet ministers in recent weeks have only served to undermine business confidence, not just on Brexit negotiations."