'Shock and anger' over Monarch Airlines collapse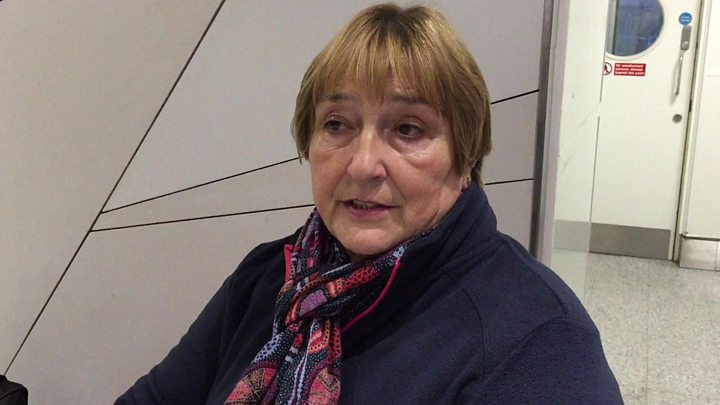 Hundreds of thousands of Monarch Airlines passengers found out early on Monday via text message or letter that the company has ceased trading.
Many have expressed distress and disbelief after their holiday plans were left in tatters.
---
'Father of the bride may miss wedding'
Barry Gill was due to fly from Leeds Bradford airport to Cyprus with his wife Deborah for the wedding of his daughter, Gemma Brown.
Mr Gill's stepdaughter, Joanne Richardson, 24, said her parents may have to pay £800 for new flights.
She said: "It was the news nobody wanted. My stepsister has got all the wedding preparations to deal with, so we're trying to get it sorted.
"We just don't know whether he's going to be there to give her away."
Ms Richardson, who is already in Cyprus, said: "We've spent all the time since then trying to sort out new flights... It's left people in the lurch."
---
'Shock then anger'
Katie Ode drove to Manchester airport on Monday morning from Anglesey, north Wales, for a Monarch flight at 07:00 BST.
She told BBC Radio 5 live she received a text message at 04:00 BST when she and her friend were only 10 minutes from the airport.
When they got closer, the scene outside the terminal was "chaotic".
"There was a massive queue of traffic. Stewards were stopping every car saying there was no point going into the airport… there was no staff, they have gone home," she said.
Ms Ode said she felt "shock at first, then anger", mainly because it was their only holiday booked for the year.
She has phoned her package holiday company to see if she can get another flight or, if not, a refund.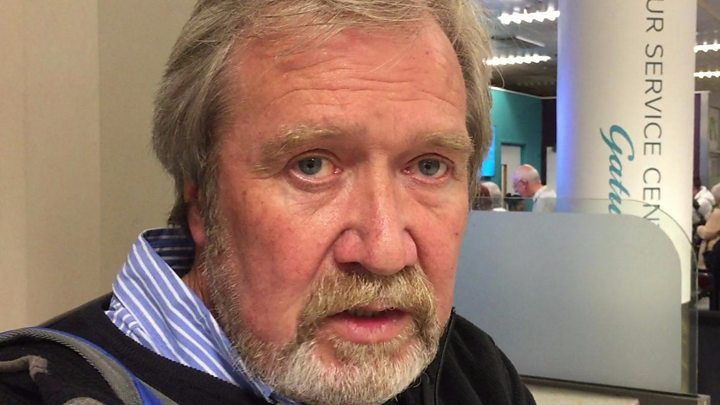 'We booked with Monarch after Ryanair cancelled'
Jessica, from Leicester, told the BBC that her and her boyfriend booked a flight to Barcelona with Monarch and a flight back with Ryanair.
She said: "Less than two weeks ago we got an email from Ryanair to say that our flight was cancelled.
"We booked return flights at an extra cost of £60 and hoped that was the worst, but on the way to the airport at 04:00 this morning we got a text from Monarch to say 'don't go to the airport, all flights have been cancelled.'
"We've had to rush to book new flights at even more expense and have now lost part of our holiday too."
---
'£900 out of pocket'
David Elrick had his flight to Dalaman, Turkey, cancelled on Monday morning from London Gatwick, but has managed to rebook.
He told BBC Radio 5 live: "We were met by some of the staff at Gatwick airport handing out letters saying that Monarch had stopped trading.
"It wasn't until we got to Gatwick that we were advised… You can imagine quite a few people were quite shocked by this."
He said he managed to book an alternative flight online, but this cost him another £600 for him and his partner.
"Plus baggage and seats, I imagine I am £800 to £900 out of pocket.
"I booked through Thomson and they are Atol protected so hopefully there will be some form of compensation, but I'll worry about that when I'm back from holiday."
---
'Absolutely gutted'
Steve Walker, from Northampton, told 5 live: "Travelling to Luton - or I was - to fly to Sweden to defend my world power lifting title tomorrow.
"Now driving back home. No chance of getting to Sundsvall in time, three months of hard training down the pan. Absolutely gutted."
---
'I won't be able to go to family wedding'
Joe Alvarez, 23, from London, said he is now worried he and his grandmother will not be able to go to a family wedding as he had a Monarch flight booked to Spain in three weeks. He said they paid £80 each.
"I'm really disappointed. I am quite upset that we won't be able to go to the wedding," he said.
"My grandmother doesn't know yet. I need to speak to her, but I want to work out a plan before I do so I don't worry her too much."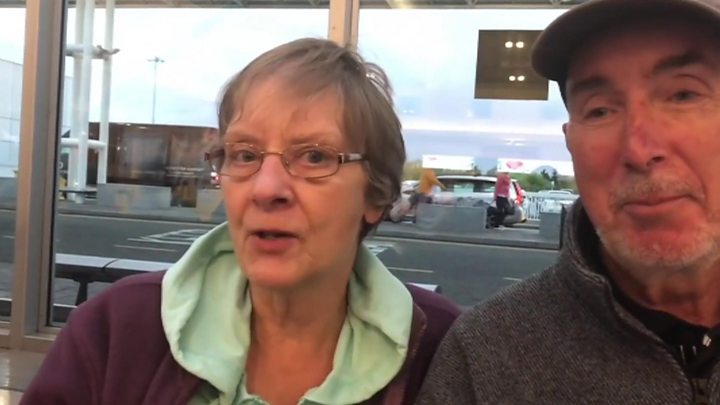 'I thought it was a prank'
"We got a text this morning saying that Monarch had gone out of business. I thought it was a prank," said Mike Olley, who was due to fly back to Birmingham from Malaga on Monday.
"Our flight is at 12:15 back home today. We haven't got any information on our flight yet.
"[It is a] bit of a shock to the system, but I am reassured by the assurances of [Transport Secretary] Chris Grayling. The CAA seems very up to speed but I feel sorry for the staff."
---
'I may have to cancel everything'
Stewart, from Renfrew, told 5 live he booked flights from Manchester to Dalaman on Saturday.
"They took my money knowing they might go into administration," he said.
"I have lost £750... I may have to cancel everything, my wife and two boys are going to be gutted."
---
'Impressed with CAA organisation'
Amy is on holiday in Turkey and was due to fly back with Monarch at 14:00 on Monday.
"Our holiday was booked with Thomson (TUI); the reps have been wonderful and have confirmed we are on an alternative flight at 14:00 with FreeBird, a Turkish airline," she told the BBC.
"We are really impressed with the level of organisation shown by the CAA in arranging an alternative flight, at exactly the same departure time, with such little notice."
---
An employee's perspective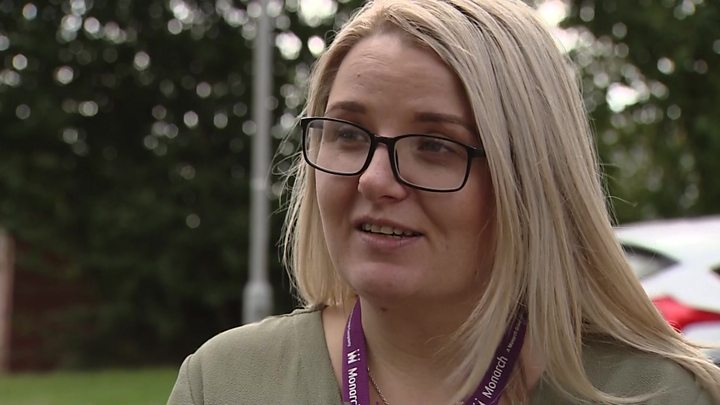 Former Monarch Airlines cabin crew member Natasha Slessor told the BBC: "It was such a shock.
"We are holding our heads up high, we will all be ok. We are a massive Monarch family and it's not just a job, it's our lives.
"We worked with these people on a plane for 18 hours a day sometimes. We knew each other's lives inside out. So we'll pull each other through.
---
'Back to square one'
Wing Lee, from Lowestoft, Suffolk, told the BBC he was due to travel to Rome during the October half term holiday as one of a party of 19 people.
He initially booked with Ryanair, but after his outbound flight was cancelled they all rebooked with Monarch.
"We are back to square one, with no outbound flight and no help," he said.
"Now, looking at the market, the price has gone up threefold. For 19 people, you can imagine the cost."
He said he was "just really really disappointed that this can happen to us in the UK".