How will Monarch customers be affected?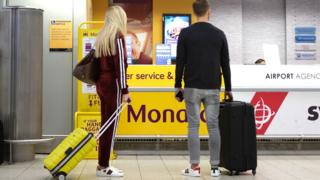 British airline Monarch has collapsed, leaving 110,000 passengers abroad and around 750,000 people with flights they have paid for, but will not be able to take.
Monarch's administrators, KPMG, said that the "vast majority" of people should get their money back in one way or another.
Full details of customers' rights are available on the dedicated website: monarch.caa.co.uk
However here are some of the answers to the most common questions.
What does it mean for customers currently on a Monarch package holiday?
The Atol scheme refunds customers if a travel firm collapses and ensures those holidaymakers are not stranded.
However, while Monarch package holidays are protected by the Atol scheme, those who booked flights only are NOT protected.
This is because Monarch withdrew from flight-only protection last year.
However most of those who booked a flight only will still be flown home by the Civil Aviation Authority (CAA), along with those who are fully Atol-protected.
The CAA is the UK aviation regulator, and administers the Air Travel Organisers Licence (Atol) scheme.
The CAA says customers currently overseas should check monarch.caa.co.uk for confirmation of their new flight details - which will be available a minimum of 48 hours in advance of their original departure time.
What if I am abroad, having booked a flight only?
You will be covered by the CAA rescue scheme, provided your return flight to the UK is on or before 15 October.
What if I am due to return home after 16 October?
If you were on a Monarch package holiday, your booking is Atol-protected, and therefore you will be flown home free of charge. If you had booked a flight only, you are not entitled to that, so you will have to make your own arrangements to fly home. You will then need to try and reclaim your money, using one of the methods listed below.
How about customers who have not flown yet?
Holidaymakers who bought a package holiday through Monarch will be Atol-protected, and will get their tickets refunded.
The CAA says that roughly half of those with future bookings are in this position, with the other half having booked flights only.
Most of those on flight-only bookings will need to seek a refund themselves - see below. The only exception to this is if you booked your flight before 16 December 2016. In that case your flight is likely to be Atol-protected and you could receive a refund.
In most cases, the Atol protection on package deals will be provided by a company other than Monarch - usually the firm providing the holiday element of the package.
But passengers due a refund may have to wait for some time.
"Experience suggests this will take weeks or months rather than days," according to the Independent's travel editor, Simon Calder.
"They will get the money back, but in the meantime the cost of their holiday will have increased."
What if I booked with a credit card?
Under section 75 of the Consumer Credit Act, anyone who booked flights costing more than £100 will get their money back automatically from their credit card provider.
However, each single flight needs to cost more than £100. So if you booked five flights, each of which cost £99, you would not be covered under the act.
If you paid less than £100 per seat, you can still use the Chargeback process, described below.
What if I used a debit card to pay?
In many cases debit cards, such as those issued by Visa, Mastercard or American Express, will also cover the loss, under what is known as the Chargeback scheme.
But, unlike with credit cards, you do not have a legal right to a refund.
There is a 120 day limit on Chargeback claims - from the day you found out your flight was cancelled.
UK Finance is advising those who paid in this way to contact their bank. The bank will then apply to the administrators, KPMG, for a refund, but may give you your money back anyway.
While some airlines still charge extra for using a credit card, Monarch abandoned that policy last year, meaning a higher proportion of its customers may have booked with a credit card, giving them extra protection.
What if I paid via Paypal?
Paypal has its own buyer protection programme, to cover consumers when they do not receive the goods or services they have paid for. However in normal circumstances there is a 180-day deadline from the payment date to claim for this. This suggests that anyone who bought their tickets more than six months ago may not be able to get a refund.
However Paypal said it would take the specific circumstances of Monarch's collapse into account. It expects most people to get their money back.
Anyone who bought their tickets through Paypal Credit - a separate product - has section 75 protection anyway.
What about claiming on travel insurance?
This will depend very much on the terms and conditions of the insurance. Most policies do not cover airline failure as a standard part of the cover.
Blair Nimmo an administrator with KPMG told the BBC: "The Atol scheme protects the package holidays. If you're on a flight only then you will tend to more rely on your credit or debit card provider or perhaps travel insurance."
The rules are "relatively complicated depending on your specific circumstances, he added, but "we would very much hope that the vast majority, if not everyone would get their money back".
Passengers unable to claim any money back will remain as creditors of the collapsed company, but they will be well down the queue for compensation.