Uber boss to meet London transport chief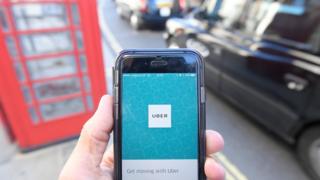 Uber has said that its chief executive, Dara Khosrowshahi, will meet Transport for London commissioner Mike Brown next week for talks.
The news comes a week after TfL said it would strip the taxi-hailing app firm of its licence to operate in the city.
Uber has already apologised for "mistakes" and said it could make concessions to be allowed to stay.
Its licence expires on Saturday and more than 680,000 people have signed an online petition urging an extension.
Uber has 21 days to appeal against TfL's decision and can continue to provide its services in the capital until the appeals process has been exhausted.
What does the London Uber ban mean?
In deciding not to renew Uber's licence beyond the end of September, TfL cited concerns about the firm's treatment of criminal offences, medical certificates and drivers' background checks.
Uber says it has followed the regulator's rules and works closely with the Metropolitan Police.
The firm is used by an estimated 40,000 drivers and 3.5 million customers in London.
Mr Khosrowshahi became Uber's boss less than a month ago.
"Our new CEO is looking forward to meeting with the commissioner next week," said an Uber spokesman.
"As he said on Monday, we want to work with London to make things right."