FTSE 100 rises as pound falls back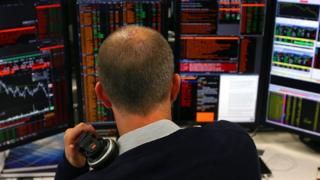 UK shares ended Friday higher as sterling weakened following the release of disappointing economic data.
At the close, the FTSE 100 was up 49.94 points at 7,372.76, with shares in ITV up 3.3% after Barclays raised its rating on the company to "overweight".
The pound fell after the Office for National Statistics revised its annual growth estimate for the April-to-June quarter down to 1.5% from 1.7%.
The ONS also indicated that the UK's service sector shrank by 0.2% in July.
The weaker-than-expected figures sent the pound lower, as they raised doubts over whether the Bank of England would increase interest rates later this year.
Sterling fell 0.3% against the dollar to $1.3396 and was 0.5% lower against the euro at €1.13450.
The fall in the pound boosted the FTSE 100, as a weaker currency raises the value of companies' overseas earnings when they are brought back to the UK and converted back into pounds.
Among individual stocks, troubled building and services firm Carillion dived 20% after it reported huge losses and cut its revenue outlook.
The firm reported a first-half loss of £1.15bn as it took further charges, and cut its full-year revenue forecast to £4.6bn-£4.8bn, down from a previous expectation of £4.8bn-£5bn.
Shares in Lloyd's of London insurer Beazley rose 4.1%, despite the company saying that losses from the impact of hurricanes Harvey, Irma and Maria, and earthquakes in Mexico, would cut its earnings this year by about $150m.