Roku shares spike after stock market debut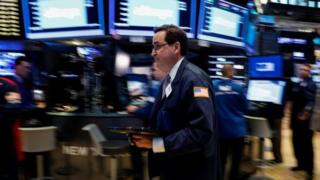 Roku, Nasdaq's newest company, stole the show on Thursday, as shares in the firm, which is known for televisions with built-in streaming, jumped nearly 70% on its first day of public trading.
The surge came amid more moderate market gains.
The Dow Jones increased 40.49 points, or 0.18%, to 22,381.2, while the wider S&P 500 rose 3.02 points or 0.12% to 2,510, a new high.
The Nasdaq was almost unchanged at 6,453.45.
Roku's initial public offering was expected to raise almost $220m (£163.75), with shares priced at $14. The price jumped to $23.50 by the close of trading.
The success of the stock market debut marked a change from some other high profile starts. Shares in social media company Snap, for instance, have dropped since its March launch.
Roku made almost $400m in revenue last year, but had a net loss of more than $42m. The firm said revenue was up 23% year-on-year in the first six months of 2017.
The company says it expects strong growth amid a broader shift to online television.