Theresa May defends free market economy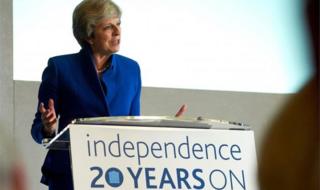 Theresa May has defended free market capitalism in a speech marking 20 years since the Bank of England was given the right to set interest rates.
She said Britons should never forget the value of a free market economy.
The prime minister also restated her determination to retain a "balanced approach" to public spending despite political pressure to ease austerity.
"Continuing to deal with our debts," is the way to strengthen the economy, she said.
Her comments follow Labour leader Jeremy Corbyn's speech on Wednesday at his party's conference, in which he said capitalism was facing a "crisis of legitimacy".
Mr Corbyn - who has consistently criticised the Conservative party's austerity programme - also insisted Labour's policies were "what most people in our country actually want".
However, the prime minister said her government would not change course. "To abandon that balanced approach with unfunded borrowing and significantly higher levels of taxation would damage our economy, threaten jobs, and hurt working people," she said.
Corbyn: We're the mainstream now
Mrs May argued that Britain's flexible labour market had brought prosperity, and when countries adopted free market economics "life expectancy increases and absolute poverty falls", she said.
It was the "only sustainable means of raising the living standards of everyone in a country", she added.
But, she acknowledged, the government needed "to be honest about where it is not currently working".
The Bank of England was given the independence to decide interest rates on its own on 6 May 1997 by then Chancellor Gordon Brown, just days after the new Labour government took office.
Prior to that, interest rate decisions were taken by the chancellor, taking into account advice from the Bank as well as Treasury officials.
That meant changes were often driven by political considerations, for example lowering interest rates after a Budget to boost the economy, or raising them immediately after a general election.
Mrs May said that giving the Bank the power to decide interest rates had been crucial to keeping inflation low in the past two decades.
For his part, the current Bank Governor Mark Carney restated that the Bank would be vigilant to counter any economic or financial disruption from the Brexit process.
"Banks will be capitalised so that they can withstand any severe shock that could be associated with Brexit - however unlikely - and still meet demand for credit," he said.