Wall Street boosted by tax reform hopes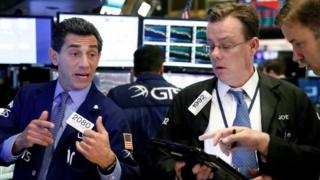 US stocks closed higher on Wednesday, as investors reacted to signs of progress on a Republican-led plan to cut taxes for businesses.
Lawmakers also want companies to repatriate overseas profits. Analysts expect the money to go to investors as buybacks or dividends.
The Dow Jones increased 56.39 points or 0.25% to 22,340.71
The wider S&P 500 climbed 10.2 points or 0.41% to 2,507.04.
The Nasdaq added 73.1 points or 0.75% to 6,427.93.
Financial and technology companies, which would be among the companies affected by the changes, were among the sectors rising on Wednesday.
Shares in investment bank Goldman Sachs jumped more than 2%, while JPMorgan Chase shares increased about 1.5%.
Apple, Netflix and Facebook, which had declined in recent days, were also higher, reversing recent trends.