The 'working class boy' who built a £1bn business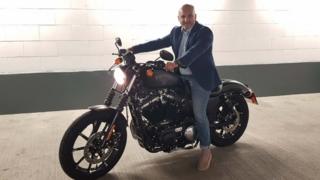 Paresh Davdra is thrilled about the brand new Harley Davidson waiting for him in a friend's garage.
It's not a sign of a mid-life crisis, he insists, but a wedding present from his wife who he married in August.
He just has one more test to pass to get his motorcycle licence, then he can hop on the bike and whizz around London for meetings.
The boss and co-founder of money exchange firm Rational FX, which reported revenues of more than £1bn ($1.3bn) last year, has a life that's worlds apart from his parents and grandparents.
They were forced to flee Uganda in 1972 when dictator Idi Amin gave the Asian population just 90 days to leave the country.
"They came to the UK with just £50 between them," says the softly-spoken Mr Davdra. "My grandfather had his own tailoring shop, but they had to leave everything behind."
His family pulled together and bought a house in Harrow, north London, with his dad securing a job as clerk, and later as a financial controller, at a foreign exchange broker.
Their fighting spirit rubbed off on the younger Davdra. "We were never really given anything - if I wanted something, I had to earn it."
From the age of 16, he spent the school holidays holding jobs in a mobile phone shop and in telesales, while out of term at Middlesex University, he worked at his dad's firm, taking up roles from filing to working in compliance.
He studied marketing and computer science at university, but tells me that technology does not come naturally to him.
"If you told my team I had this degree, they wouldn't believe you. I'm always the one calling IT to connect the laptop to the printer," he laughs.
As soon as Mr Davdra graduated, in 2003, he joined his dad's company as a foreign exchange dealer, helping clients to buy and sell large quantities of foreign currencies.
He was in the role for just over a year, working with Indian-born Rajesh Agrawal, a friend of his father's who had arrived in the UK in 2001. But two factors would spur him to quit.
"I'd tried to buy a property with my dad but the bank rejected the mortgage application," Mr Davdra says. "It deflated me."
At the same time, Mr Agrawal resigned from his IT manager role. "When he decided to quit, I badgered him. I asked him to tell me what he was doing," Mr Davdra says.
The two met for coffee and quickly agreed they wanted to set up a company together. The idea was to support customers buying property abroad with their currency needs.
"Everything we were doing at the old firm was manual, but we thought we could offer the same service online," Mr Davdra says.
However, the duo faced a serious challenge: money. Mr Davdra was only a year out of university and had already taken out a personal loan to buy a BMW.
When Mr Agrawal took their business plan to the bank and asked to borrow £10,000, he was swiftly rejected. But he returned a few days later and asked for £20,000 to buy a car.
The bank said yes.
"I then sold my BMW and we were set," says 37-year-old Mr Davdra, who also moved into Mr Agrawal's home to save on rent.
With just £32,000 between them, the pair launched their foreign exchange brokerage, RationalFX, in 2005.
Like many start-ups, the next difficult task was signing up customers.
"We got on the phones and started pitching to estate agents and attended every property industry event there was," recalls Mr Davdra.
"We'd be in the office all day from 8am, then we'd just be at it in the evenings."
Their big breakthrough came when they signed a number of estate agents who were selling properties in Dubai.
However, just two years after launching, the financial crisis hit. Mr Davdra reflects candidly on how it changed his young mindset.
---
More The Boss features, which every week profile a different business leader from around the world:
---
"I was 27 at the time and the business was doing great guns, and I was well on my way to being rich. That's all I thought about it.
"It wasn't really about building a business - that comes with time and maturity. But the crash brought that along. It was a good learning curve."
Rational FX also felt the fall-out from the crash, with its growth slowing. But it weathered the storm and went on to diversify.
Today, its clients range from high-net worth individuals, either buying property or making investments, to medium-sized businesses, such as firms exporting cars or importing textiles.
It reported revenues of £1.3bn in 2016, up from £1.1bn the year before, and pre-tax profits of £2.3m - largely because the firm reinvested heavily in its business, Mr Davdra says.
After enjoying success with Rational FX, the founders had an idea for an offshoot company - an online money transfer platform aimed at individuals sending lower sums to family overseas.
"We felt that Rational FX was driving revenues, but Xendpay [the new company] was more of a social initiative, to try and bring the costs of remittance down for people working hard to bring their families out of poverty."
Xendpay has a "pay what you want" model, although it does suggest a minimum commission of 0.3-0.4% of the transaction.
Mr Davdra says that more than 70% of users pay the suggested fee, 10% hand over more, and the rest pay nothing.
The platform isn't profitable yet, although Mr Davdra expects it to break even next year. "It was a bit of gamble but a risk we were willing to take."
'Still growing'
Last year Mr Agrawal stepped down from the firm after he was appointed Deputy Mayor of London for Business. He still owns 70% of the business, and is a non-executive director, while Mr Davdra holds the remaining shares.
Mr Davdra says he "misses him".
"Apart from business, over the last 12 years we have developed a good relationship. He's a very very close friend."
For now, there are no plans to sell RationalFX, although private equity firms approach the firm "an average of twice a day".
"Our brands are still growing and are quite young. It's all about the right opportunity," Mr Davdra says.
Headquartered at Canary Wharf, RationalFX and Xendpay together employ 110 members of staff.
Despite his penchant for expensive bikes and cars, Mr Davdra - who still lives in Harrow - has his feet firmly on the ground.
"I think we're pretty humble. We're working class, and we just do normal stuff. It's the way we've been brought up."