China brings home the bacon for Peppa Pig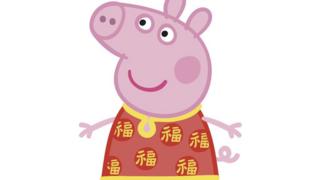 Peppa Pig is becoming a big hit in China where sales of her toys, clothes and home furnishings are on the up.
The cartoon pig's popularity in the country has been driven by nationwide showings of her TV programme and a big social media presence.
Peppa has attracted 34 billion views on the different Chinese platforms since the brand launched in 2015.
The toy is also bringing in increased revenue in the US for Entertainment One, which owns the brand.
Peppa successfully hit the big screen this year, with Peppa Pig: My First Cinema Experience taking £3.6m in the UK and A$2.2m (£1.3m) in Australia and New Zealand.
The group, which also owns film business eOne and a television arm, said in a trading update on Wednesday that all divisions were performing as expected.
However, box office revenues from films it distributes had nearly halved because of a lack of new releases.
Movies due to be released before the end of 2017, including Steven Spielberg-directed film The Post, Paddington 2 and A Bad Moms Christmas, should reverse that trend, EOne said.
Andrew Carley, head of global licensing at Entertainment One, told the BBC that the biggest selling item in China had been the traditional story books.
Since April 2016, they have sold 18 million copies and he said: "The numbers in China are unlike anything we've seen in any other territory.
"The sales have blossomed probably as a result of that need or want of parents to educate children in English."
The next country to welcome Peppa is set to be Japan, with Mr Carley adding that then the pig would be truly global.
Local touch
Analyst Tom Harrington, of Enders Analysis, said the character's success in China was "amazing".
He told the BBC: "China is a massive market but is very difficult for Western media companies to get into for two reasons.
"One is censorship, and the other is that you can't operate there without an alliance with a Chinese business.
"However, children's content is very transferable between cultures, especially animation which is very easy to dub over to make it look local."
He said the most popular TV shows in any country are always locally made. For example, only one foreign programme made it into the top 150 shows watched in the UK last year.
Shares in EOne fell 1.4% to 254.5p, valuing the company at £1.1bn, but the stock has risen more than a fifth over the past 12 months.