Tech recovery lifts Wall Street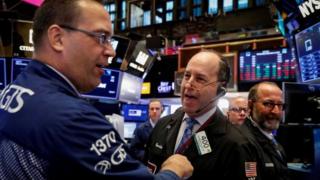 US markets closed mostly higher as tech stocks clawed back some of the ground lost in the previous session.
High-profile technology companies had weighed on Wall Street on Monday amid concerns that share prices in the sector were too high.
But shares in Apple and Facebook both rose by 1.7% and 0.8% respectively.
The Dow Jones slipped 12 points to 22,284.32, while the S&P 500 climbed 0.18 points to 2,496.84. The Nasdaq rose 9.57 points to 6,380.16.
Shares in credit report company Equifax fell 1% after it announced its chairman and chief executive, Richard Smith, was retiring with immediate effect.