Uber is not part of the gig economy, firm argues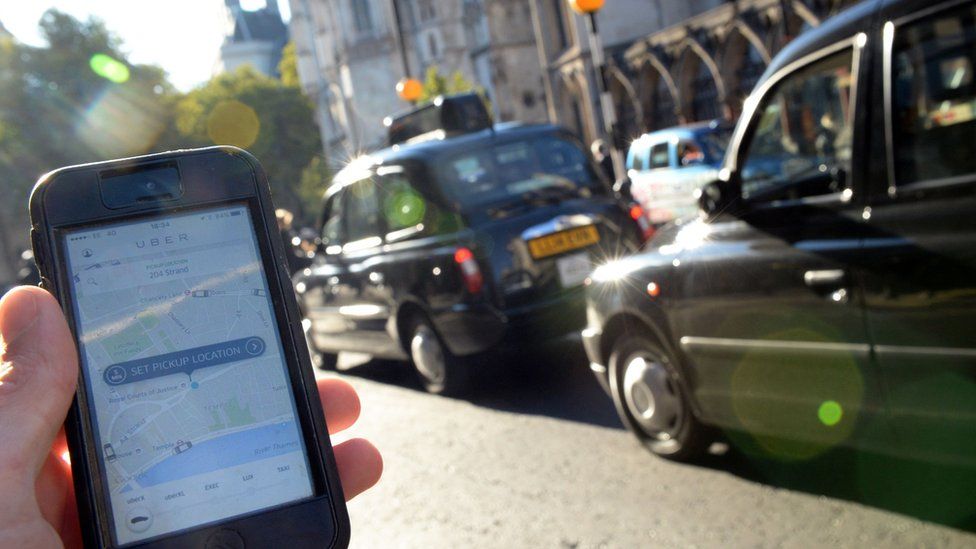 Uber is not part of the so-called "gig economy" and operates a similar business model to local taxi firms, an Employment Appeals Tribunal has heard.
The cab app firm, which is appealing against a ruling that its drivers are entitled to rights such as holiday pay, says its workers are self-employed.
Lawyers for Uber said drivers are under no obligation to use its booking app.
Last year, a tribunal ruled two drivers were Uber employees and entitled to rights including the minimum wage.
As employees, drivers would also be entitled to sick pay and paid holiday.
Uber - which this month lost it licence in London - appealed against the decision, which is being heard at an Employment Appeals Tribunal hearing.
Dinah Rose QC, representing Uber, told the tribunal there was a tendency to "lump" the firm in with the so-called gig economy and for people to assume it was a "wicked" company that exploited workers.
But she said it was wrong to associate Uber with firms that utilise short-term contracts or freelance work, as opposed to permanent jobs.
She said the Uber booking app acted as an agent and was a "very powerful piece of technology", giving drivers access to passengers in return for a cut of the fare.
"Potential drivers or users are under no obligation at all to use it and if they don't use it they don't have to pay Uber anything at all," Ms Rose added.
She argued Uber operates the same "business model" as local taxi firms, but by using technology it did so on a "much larger scale".
They claimed Uber was acting unlawfully by not paying holiday or sick pay.
The tribunal ruled in their favour, saying the idea that Uber's 30,000 drivers were essentially small businesses linked by a common platform was "faintly ridiculous".
Before the appeal hearing, Mr Farrar told the BBC: "Uber tell you that you are your own boss, but in reality I don't control the fare.
"If I take a different route other than the one I've been given I'll be penalised. I'm performance managed through a ratings system and if I hit 4.4 I'm out of a job. "
"I don't know who the customer is, so I can't ever develop a customer database that I can work with.
"I can't take the booking myself, so there's very little control."
Being self-employed means you are not subject to workplace rules and your rights are governed by the contract not statutory rights.
As a worker, there must be a contract which requires the driver to carry out duties personally and rights and benefits are guaranteed by the company.
The ruling could threaten to significantly increase the operating costs of companies, like private hire and delivery firms, that use people who work on demand or those in the gig economy.
Recent estimates suggest more than a million people are working under such arrangements.
Uber says the tribunal's decision was wrong in law and maintains its drivers are independent contractors.
Fred Jones, from Uber, told the BBC it had appealed against the ruling because 80% of its drivers would rather be self-employed than be classified as a worker.
The company says it has invested in a number of changes, including discounted illness and injury cover, paid waiting time and the ability to cash out fares at any time.
The tribunal hearing is due to last two days, with a judgement reserved to a later date.
Related Internet Links
The BBC is not responsible for the content of external sites.