Pension Credit: More than £3bn goes unclaimed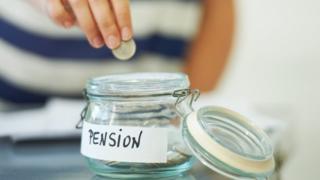 Up to 1.4 million low income families are missing out on a top-up to their state pension, the government has said.
The Department for Work and Pensions (DWP) is urging people to talk to friends, relatives and neighbours to ensure they are claiming Pension Credit.
Nearly two million people claimed more than £6bn in the benefit in 2015-16.
Yet £3.3bn went unclaimed, according to official figures, so take-up has been static for six years.
Each family entitled to the benefit but failing to claim is missing out on an average of about £2,000 a year.
'Simple'
Guy Opperman, Minister for Pensions and Financial Inclusion, said: "Through a simple check, you could have access to additional money that could make all the difference in day-to-day life.
"Even though we have reduced pensioner poverty close to historically low levels, many older people are still not claiming the support they are entitled to."
Pension Credit is a non-taxable benefit based on a person's income. The benefit tops up pensioners' weekly income to £159.35 for single people or £243.25 for couples.
Additional amounts may be payable for people with caring responsibilities, severe disabilities or certain housing costs.
Many recent new pensioners who receive the flat-rate state pension have the benefit wrapped into their regular pension.
Caroline Abrahams, charity director at Age UK, said: "It is extremely worrying that there has been no progress in the benefit take up figures despite the number of UK pensioners in poverty now standing at 1.9 million.
"We are dismayed that despite so many pensioners struggling financially. We know that many of those missing out simply are not aware they could entitled to extra support. Others are aware of the benefits but feel too embarrassed or proud to put in a claim, and some have previously put in an unsuccessful claim or been put off by the claiming process which they feel is too complicated or intrusive."