Thomas Cook predicts Spanish holiday prices to rise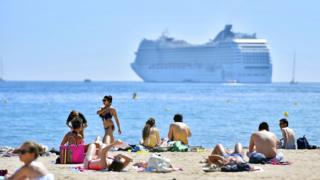 Travel company Thomas Cook has said it expects the price of Spanish holidays to rise by another 5% to 10% next year because of the weak pound.
Chief executive Peter Fankhauser told the BBC that Spain's renewed popularity because of safety fears elsewhere was also driving prices higher.
"We have not enough beds for all the demand," he said.
But he added that the firm was also seeing evidence that people were turning back to Egypt and Turkey.
Last month, Thomas Cook said it had resumed selling holidays in Tunisia to Britons for the first time since the attack at a resort in Sousse in 2015.
Trips will resume in February 2018, after the Foreign and Commonwealth Office (FCO) eased its travel advice.
The FCO previously advised avoiding all but essential visits following the June 2015 beach attack, which killed 38 people, including 30 British tourists.
Bookings up
Mr Fankhauser was speaking as the firm issued a trading statement showing bookings by UK holidaymakers had risen by 8% over the summer, while overall group bookings had gone up by 11%.
The company said its winter programme was 37% sold so far, with UK bookings up 5%.
Mr Fankhauser told the Today programme that both Egypt and Turkey were "wonderful destinations" that offered "great value for money".
He said Thomas Cook tried to inform customers "as best we can" about the potential risks and let them make up their own minds about whether they wanted to go.
Mr Fankhauser said Spanish hoteliers were "taking a bit of an advantage" of increased demand, but they were also investing their higher profits to improve their facilities.