A fall in tech stocks weighs on Wall Street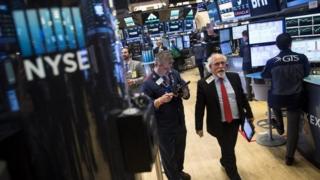 High-profile technology companies including Apple, Netflix and Facebook fell on Monday, driving US shares markets lower.
Energy firms got a boost from a rise in energy prices, but the increase could not offset the losses.
The tech-focused Nasdaq dropped 56.33 points, or 0.88%, to 6,370.59 points.
The Dow Jones fell 253.5 points, or 0.24%, to 22,396, and the wider S&P 500 slid 5.56 points, or 0.22%, to 2,496.66.
Technology companies helped propel a surge in US market indexes earlier this year, leading some to say that the stocks were becoming over-valued.
Shares in Netflix and Facebook each fell more than 4% on Monday, while Microsoft, Apple and Google-owner Alphabet were all lower.
Exxon was among the biggest winners on the Dow, rising more than 1% after oil prices soared.
Safe-haven assets such as gold also increased, amid ongoing tension between the US and North Korea.
North Korea's foreign minister said the US had declared war on the country and it reserved rights to take counter-measures.