What does London's Uber ban mean?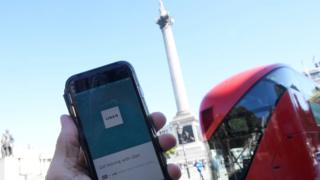 Taxi-hailing app Uber is set to lose its London licence at the end of the month after a ruling from regulators at Transport for London.
However, the US tech firm has said it plans to appeal against the ruling.
That has made it unclear whether Uber will stop being available to its 3.5 million customers in London.
Uber also has more than 40,000 drivers in London, who now face an anxious wait to find out the fate of the company's licence.
What has Uber done wrong?
TfL has ruled it will not renew Uber's private hire operator licence after it expires on Saturday 30 September.
The body, which operates London's public transport network and regulates taxis in the capital, said Uber was "not fit and proper" to hold the licence. London mayor Sadiq Khan backed the decision.
There were potential public safety and security implications from the way the company is run, TfL said.
It pointed to Uber's approach to: reporting serious criminal offences; obtaining medical certificates; and background checks into drivers.
Uber's use of secret software - called "Greyball" - which could be used to block regulators from gaining full access to the app, was also cited by TfL in its decision.
The company rejected TfL's claims that it endangers public safety and said Greyball had never been used in the UK for the purposes cited by TFL.
So could Uber shut down in London?
Uber has 28 days to lodge an appeal, and the firm has said it will do just that.
Fred Jones, an executive for Uber UK, told the BBC that Uber would appeal against the decision through the courts and continue operating beyond 30 September.
That could see Uber carrying on its operations for months to come, the BBC understands.
TfL said Uber can "continue to operate until any appeal processes have been exhausted".
Nigel Mackay, a lawyer at Leigh Day law firm, which has challenged Uber over its working practices, said Uber's appeal "could go all the way to the Supreme Court".
"This could be a lengthy process and the timeline is very difficult to predict. Essentially, how long is a piece of string?" he added.
Is there a loophole?
Could passengers in London still legally book an Uber even if the firm lost its TfL operating licence? In theory, yes.
In England and Wales, passengers can book a private hire vehicle from anywhere they like - just so long as the driver, the vehicle and the operator are all licensed by the same authority, and the booking is processed in that authority's area.
That doesn't need to be the same place the passenger wants to be picked up or dropped off.
Uber has lots of licences outside London, and app-based services like Uber can process bookings almost anywhere they like.
TfL aren't happy with this state of affairs and say they're lobbying the government to tighten up the rules.
But for the time being, even if Uber lost their London licence, a passenger in the capital could book an Uber licensed in, say, Brighton - and it would be completely above board.
Can Uber's rivals capitalise?
London's traditional black cab drivers have fiercely opposed Uber's presence in London.
And Uber - which was granted a five-year licence in London in 2012 - has proved a big threat to minicab firms too.
TfL's decision provides a big opportunity for those minicab firms to win back customers, said Joseph Evans, an analyst at Enders Analysis.
"If they fail at appeal and they can't get a licence to operate in London, obviously it's a huge opportunity for rivals," he said.
"Behind the scenes, without many people noticing, minicab firms have rolled out very similar tech at competitive prices," he added.
They now offer app booking, quicker pick-up, better transparency on where drivers are, and mobile payments.
Hasn't Uber hit trouble elsewhere in the world?
Yes. Uber left the Texas city of Austin last year after it lost a referendum requiring strict background checks on its drivers.
The company has since returned after making some changes, and the same could happen in London, predicts BBC North American tech correspondent Dave Lee.
Uber has also run into trouble in major European cities, including in Paris, Brussels and Madrid.
In June 2014, taxi drivers across Europe went on strike in protest at what they regarded as a lack of regulation of the mobile taxi-booking service.
In September that same year, a court in Frankfurt, Germany, ruled that the firm lacked the necessary legal permits to operate under German law.
Uber later withdrew its services from Frankfurt, Hamburg and Dusseldorf after its business was hampered by regulations.
New laws for drivers introduced in Denmark in 2016, including mandatory meters, also saw the company pulling out after less than three years of service in the country.
The firm said in a statement that "regulations need to change" in order for it to operate.
Uber was banned in Italy earlier this year after a court in Rome upheld a complaint by taxi unions that the firm represented unfair competition for traditional taxis. The ban was later annulled following an appeal by the firm.