Government borrowing at lowest August level for 10 years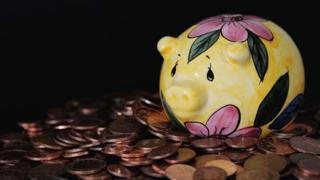 Bumper VAT receipts have helped government borrowing to fall to its lowest August level since 2007, according to official figures.
The government's deficit narrowed to £5.7bn last month, compared with £7bn a year earlier, the Office for National Statistics (ONS) said.
VAT receipts rose by 5.6% from last year to £11.6bn, a record for August.
For the financial year to date, the government has borrowed £28.3bn, down £0.2bn from the same point last year.
The monthly deficit for August was lower than analysts had forecast and followed a £0.2bn surplus in July, which was the first such surplus for that month since 2002.
However, the government's total debt - defined as public sector net debt (excluding public sector banks) - stood at £1.77 trillion at the end of August, equivalent to 88% of gross domestic product.
That also represents an 89% rise in the stock of the national debt since the start of the current decade.
'Wiggle room'
Howard Archer, chief economic adviser at the EY Item Club, said: "The public finances were boosted in August by record VAT receipts for the month... which ties in with strong retail sales growth.
"The ONS also reported that taking July and August together, receipts from income-tax self-assessments were up £0.4bn to a record £9.4bn.
He warned that the public finances might take a turn for the worse in the coming months, due to the slow growth of the economy and higher government interest payments.
"Nevertheless, it looks increasingly like the chancellor will have some wiggle room in November's Budget," Mr Archer said.
Samuel Tombs, chief UK economist at Pantheon Macroeconomics, said the improvement in August's deficit reflected government spending cuts, rather than a strong economy.
But he said borrowing for the current financial year "appears to be on track to come in at about £50bn, clearly below the OBR's [Office for Budget Responsibility] March forecast".
At the Budget in March, the OBR had forecast borrowing for 2017-18 would be just over £58bn.