Johnson Matthey jumps 15% after revealing battery plan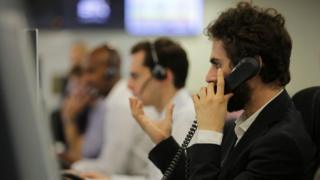 A big rise in the value of shares in the specialist metals and chemicals firm Johnson Matthey was the highlight of the London stock market on Thursday.
Johnson Matthey shares closed 15% higher after it announced plans to invest £200m in developing battery materials for electric cars.
It said the market could be worth more than $30bn in sales when battery driven cars account for 10% of all vehicles.
The FTSE 100 index closed eight points lower at 7,264.
In the FTSE 250 market shares in the outsourcing group Capita fell 12% to £5.70 after it reported lower profits and gave a weaker than expected forecast.
The company said half-year pre-tax profits had fallen by 26% to £28m, after it sold its specialist recruitment arm and shut down its events operation.
However, it said that "underlying" profits were expected to "rise modestly" in the second half of the year.
Shares in Irish building materials firm CRH rose 2.4% after it agreed to buy the US cement maker Ash Grove Cement for $3.5bn (£2.6bn), in order to expand in North America.
On the currency markets, the pound rose 0.5% against the dollar to $1.357 and was barely changed at 1.136 euros.