Consumers told to stop buying 'fire-risk' fridges
By Brian Milligan
Personal Finance reporter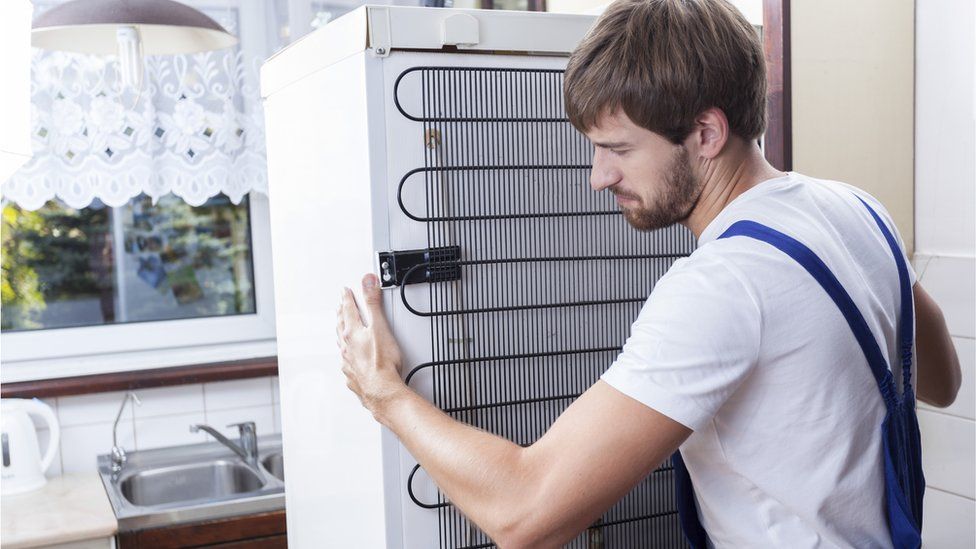 Consumers are being advised to stop buying fridges and freezers with flammable plastic backs, which could create a fire risk.
According to research by Which? there are at least 236 such models on sale, representing nearly half the market.
It is also asking manufacturers to stop making such appliances.
However, the industry said consumers should not be alarmed. It insisted that all fridges and freezers sold in the UK adhere to legal safety requirements.
The move by Which? follows a five-year campaign by the London Fire Brigade to have full fire-resistant backing on such appliances made compulsory.
Flammable plastic backs are unlikely to be the direct cause of a fire, but they can help flames to spread.
But because it believes the danger is relatively low, Which? is not calling for millions of existing appliances to be recalled.
"People who already have one of these models in their homes shouldn't be alarmed, but our advice is that no-one should purchase one from new," said Alex Neill, the managing director of Which? Home and Product Services.
A Hotpoint fridge-freezer has been cited as the starting point for the fire that spread throughout Grenfell Tower.
However, it is still being examined by forensic officers, and it is not known whether it had a flammable back.
In tests carried out by the London Fire Brigade, a fridge with a plastic back burst into flames after 90 seconds of having heat applied to it, and had to be put out after two-and-a-half minutes.
However there is no evidence that anyone has been killed or injured as a direct result of flammable plastic backs.
Which? examined 506 fridges, freezers and fridge-freezers that are currently on sale in the UK, and found that 46% of those do not have fully flame-proof backs.
Of 26 Hotpoint models they examined, only one had fire-resistant backing. None made by Ikea had one, and of 12 Indesit models, only two had the safety feature.
By contrast, all the models made by Beko, Bosch, Grundig, LG, Miele, Samsung and Siemens were fully protected. Most of these have metal backs, but are more expensive brands.
However, the industry said that current safety tests were extremely thorough.
"This means that they are designed to comply with rigorous, scientifically defined, internationally agreed safety standards," the Association of Manufacturers of Domestic Appliances (AMDEA) said in a statement.
"Hence, although we run some 43 million fridges and freezers, including some we keep for years, fires are very rare."
The London Fire Brigade said it was very concerned about the current manufacturing standard, which allows flames to get through to the fridge's insulation and accelerate a fire.
"The entire back of fridges and freezers must be properly covered in fire resistant material to limit the spread of fire, but the current manufacturing standards still allows for holes in the backing for cables or components which would leave the highly flammable insulation inside exposed," said Dan Daly, assistant commissioner for fire safety.
"Partially covering the back of a fridge is like having a fire door with a hole in it that would allow fire, heat and smoke to pass through."
Last month, the Brigade wrote to the Prime Minister, warning that appliances with flammable plastic backs offer very little protection if insulation foam catches light.
The current safety standard for fridges and freezers, known as IEC 60335-2-24, is constantly under review.
In the latest update, in July, it was agreed that further independent testing would be carried out, to see if the standard should be modified further.
However Which? said the industry should do the right thing by banning flammable materials immediately.
It also wants a national body to take responsibility for keeping households safe, and keeping dangerous products out of people's homes.