Ryanair compensation info 'woefully short' says Which?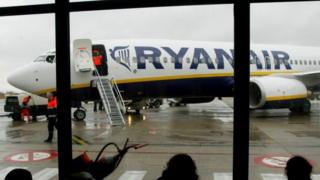 Ryanair's information to customers about compensation for cancelled flights is "woefully short", consumer group Which? has said.
Ryanair has stepped up efforts to deal with the 2,100 flights it has cancelled during the next six weeks.
But Which? said it should make its compensation obligations clear.
Meanwhile, Italy's competition regulator has opened a probe into the cancellations which it said the low-cost airline could have prevented.
Ryanair is the biggest carrier in Italy, outstripping even Alitalia, which it is trying to buy.
The Irish airline could be fined as much as 5m euros.
The cancellations may have been "largely due to foreseen organisational and management reasons... not random, external causes outside of (the company's) control", said the Italian Competition and Market Authority (AGCM).
Cancellations
Ryanair said all 315,000 affected customers received emails on Monday, advising them of the flight changes and offering alternative flights and refunds, after it decided at the weekend to cancel 40 to 50 flights every day for the next six weeks.
It has blamed the fiasco on its own mistaken decision to force its pilots to take their remaining annual leave before the end of this year, rather than by the end of the financial year next March, which has left it without enough pilots to fly all its scheduled planes this month and next.
The airline said that by the end of Wednesday, it expected to have reassigned 55% of the customers - 175,000 - to other Ryanair flights.
More than 63,000 refunds will have been processed, it said.
However Ryanair pilots have knocked back a proposal from the carrier to pay them bonuses to encourage them to work through the enforced holiday leave.
'Blow to passengers'
The airline's current advice to customers on its website does not mention the word "compensation", to which customers are entitled under European legislation.
The Ryanair website only says: "We understand that flight cancellations may cause distress and we will accommodate your option of choice wherever possible, while complying with EU Regulation 261/2004."
Which? took a dim view of this oblique approach and said compensation should be paid automatically.
Its spokeswoman, Alex Neill, said: "Ryanair's approach to informing affected passengers about compensation falls woefully short.
"It is legally required to spell out compensation rules when a flight is cancelled and, in our view, has so far failed to do that, leaving passengers hunting around for information.
"This is another blow for the thousands of passengers who have already had to endure huge inconvenience as a result of this fiasco," she added.
Ryanair estimates that the cancellations will cost it up to 20m euros (£17.7m), though this figure could eventually be higher, as the airline's estimate amounts to only 63 euros per affected passenger.
The total number of passengers now affected is, however, lower than the airline's original figure of 390,000 because Ryanair's planes were only 70% booked in October, compared with 90% full in September.
The airline also said it had taken on extra office staff to deal with the backlog of flight changes and compensation requests.
It added that it hoped to have dealt with more than 95% of the affected customers by the end of this week.
Kenny Jacobs, Ryanair's chief marketing officer, apologised again for its mistakes.
"We have taken on extra customer service teams to speed up the rate at which we accommodate and action alternative flight requests or refund applications," he said.
"We expect to have the vast majority of these completed by the end of this week.
"The vast majority of these requests are being dealt with online, but as our call centres and chat lines are extremely busy, we ask affected customers to bear with us as we do everything we can to respond to their requests and try to resolve any problems we have created for them, for which we again sincerely apologise," he added.