10 university flashpoints over free speech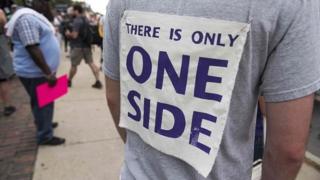 Free speech - too much of it or too little of it - has become one of the thorniest and most emotive subjects for universities.
At what point do strongly held views become extremism or hate speech?
There have been violent flashpoints, particularly in US universities, about what can be said about race, gender and sexuality.
And when does the ultra-liberal assertion of "safe spaces" and limits on language become intolerant and controlling?
Or are these just first-world problems, missing the point about what freedom is really about?
So as new academic terms begin, where are the significant battlegrounds?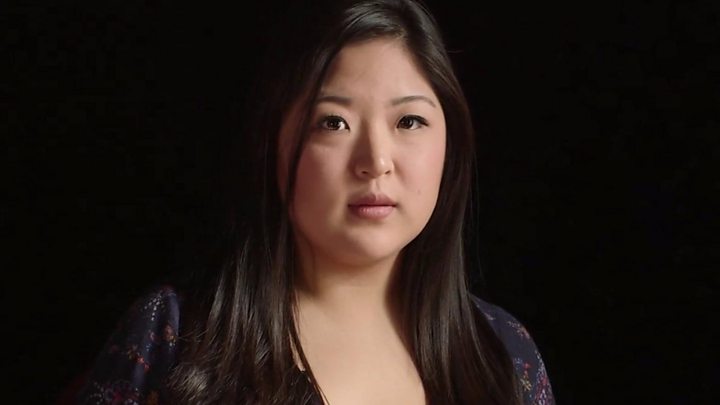 1) In Hong Kong, students are under pressure to stop putting up posters and flying banners promoting independence from China.
University campuses are being told that this is not an issue of freedom of speech, but an attack on the principle of Hong Kong's "one country, two systems" relationship with China.
The posters are put up by students on "democracy walls", but authorities say this is an "abuse" of freedom.
2) The dollar price of free speech: The University of California, Berkeley, was a cradle of the "free speech movement" in the United States in the 1960s, when students were protesting against the Vietnam war.
It's still on the front line of debates about free speech.
Right-wing commentator Ben Shapiro spoke at Berkeley this month, drawing angry protests from opponents.
The university authorities said the security operation around the event cost them $600,000 (£440,000).
Another right-wing free speech event, also likely to provoke another protest, is planned for the autumn.
3) Looking west or east?: The Central European University in Budapest in Hungary has been at the centre of an international struggle, which the university says could see it being shut down.
The university, originally funded by the liberal philanthropist George Soros, says it is being targeted by an unsympathetic, nationalist government.
Hungary's government says the university needs to comply with new higher education regulations - and negotiations in the United States have been trying to break the deadlock.
4) Illiberal liberals?: Republican lawmakers in the US state of Ohio are trying to put campus free speech into legislation - challenging what they see as excessive political correctness.
They warn that a "mentality is creeping into our culture that views disagreeable speech as inherently hateful, or even violent".
They want to stop universities setting up designated "free speech zones" on campus, where controversial opinions can be aired, arguing that the whole university should be open to free speech.
5) Torch ban: After the confrontations between torch-carrying white supremacists and protesters at the University of Virginia in Charlottesville, the universities have clarified that carrying such "open flames" will not be permitted by the campus police.
It shows the power of the symbol in arguments over free speech, with the burning torches evoking images of the Ku Klux Klan and far-right rallies.
There are other measures toughening up security, but university authorities say that carrying "open flame devices" will be prohibited.
6) Turkey trial: The trial of a university lecturer accused of terror-related charges began last week in Turkey.
Nuriye Gulmen, and a primary school teacher also facing charges, have been on a hunger strike protest and were not present at the court in Ankara, with supporters warning of their ill-health.
They lost their jobs in a crackdown that followed the failed coup attempt against Turkey's president last year.
Their case has become a symbol of the 150,000 people claiming to have been sacked or suspended since the coup attempt.
7) Carving out an argument: US universities have been caught in a series of symbolic battles over statues, the names of buildings and what constitutes campus freedom.
Much of this has been about representations of race and identity.
Yale has decided that it needs to remove a 1920s carving from one of its buildings which "depicts a Puritan settler holding a musket pointed toward the head of a Native American".
The university says leaving it in place could create the "unintended effect" of endorsing an image which shows a "scene of warfare and colonial violence toward local Native American inhabitants".
The push for gender neutrality has also seen the university switch away from the traditional term "freshman" for new students to using "first year".
8) Chelsea Manning, imprisoned after giving government information to Wikileaks, was named as a visiting fellow at the Institute of Politics at Harvard Kennedy School last week.
But two days later the university rescinded the appointment describing it as a "mistake".
Harvard said in appointing her they wanted to hear from people who "significantly influenced events in the world even if they do not share our values".
This raised the recurrent issue about being free to hear opposing views.
But after ex-acting CIA director Michael Morell resigned from his post at the university over the decision, Harvard reversed her appointment.
9) "My job is not to make you feel comfortable." The University of Oxford vice chancellor, Louise Richardson, warned fellow university leaders that they had a responsibility to protect free speech on campus.
She told them that students needed to confront views with which they disagreed, even if it meant addressing attitudes that made them "uncomfortable" or they found offensive.
But she then became embroiled in a row over whether the example she used showed a lack of opposition to homophobia, with calls for an apology and clarifications that she had been "completely misconstrued".
10) North Korea: What are their worries about free movement? A private, English-language university in the country, the Pyongyang University of Science and Technology, has been struggling with getting overseas staff through the US travel ban, but opened as planned this term.
Meanwhile Kim Il-sung University, working on a technology project forecasting exchange rates, has only "success" to report.
---
More from Global education
Ideas for the Global education series? Get in touch.
---