Wall Street rebounds as Irma weakens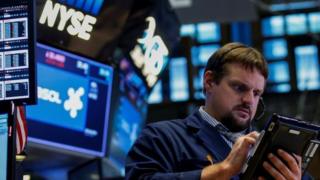 Stocks on Wall Street rose on Monday as Hurricane Irma lost strength, raising hopes it will not cause as much damage as feared.
Irma, which hit Florida as a category four hurricane on Sunday, has since been downgraded to a tropical storm.
Shares in insurers saw gains, with Travelers up 2.4% to make it one of the steepest risers in the Dow.
The S&P 500 added 26.68 points, climbing by 1.08% to 2,481.11 - a new record.
The Dow Jones jumped 259.58 points, rising 1.2% to 22,057.37
The tech-heavy Nasdaq index added 72.07 points, gaining 1.13% to 6,432.26.
"For now, we're seeing a bit of a relief rally. It does appear that the worst-case scenario for Florida has been evaded," said Peter Cardillo, chief market economist at First Standard Financial.
Home improvement company Home Depot, which had risen in anticipation of reconstruction spending, saw shares fall 0.8%.
But most sectors were higher. Companies such as American Airlines and Royal Caribbean Cruises rebounded from declines last week.
Markets were also buoyed by the lack of any new nuclear test by North Korea over the weekend.
Some had feared the country would carry out another test on Saturday, which was the 69th anniversary of North Korea's founding.