Hurricane Irma wrecks Sir Richard Branson's Necker Island home
By Rebecca Marston
Business reporter, BBC News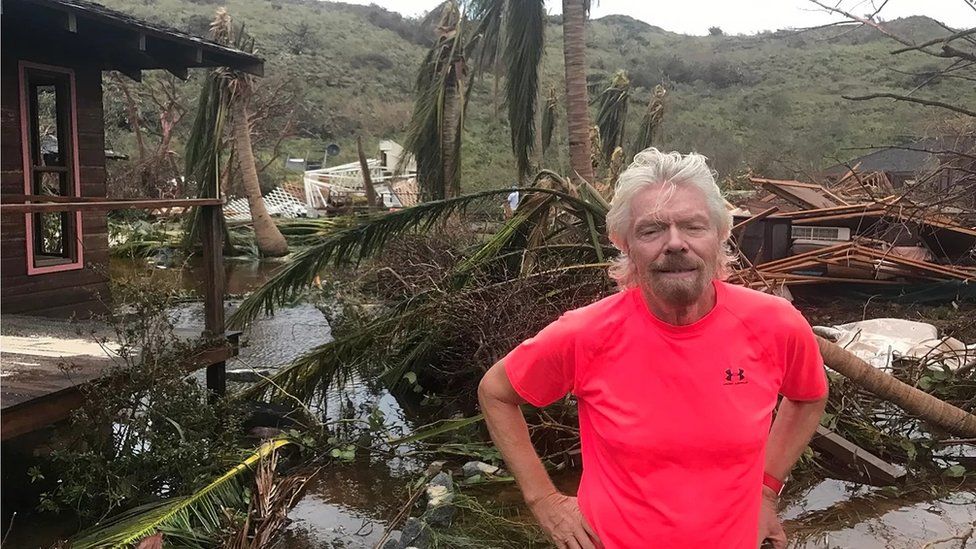 Sir Richard Branson says most of the buildings and vegetation on Necker, his Caribbean island, have been destroyed or badly damaged by Hurricane Irma.
Necker is among the 50 British Virgin Islands (BVI). Sir Richard says he has visited the nearest ones to Necker and has seen "first-hand how ferocious and unforgiving this storm was".
The hurricane killed five people in the territory and the BVI's premier has asked the UK to give long-term support.
Sir Richard and his team are safe.
Hurricane Irma passed through the British Virgin Islands in the middle of last week.
He said: "We felt the full force of the strongest hurricane ever in the Atlantic Ocean. But we are very fortunate to have a strong cellar built into Necker's Great House and were very lucky all of our teams who stayed on Island during the storm are safe and well."
He said the "story is about the tens of thousands of people who have lost their homes and their livelihoods".
Communications are mostly still down in the British Virgin Islands and Sir Richard is currently in Puerto Rico, a few kilometres to the west of the islands.
He said he was there "to further mobilise aid efforts and rebuilding plans for the British Virgin Islands and wider Caribbean".
Sir Richard said he would be talking to various governments and aid agencies as well as the media, and would be heading straight back to the British Virgin Islands to continue helping the recovery effort on the ground.
The British Virgin Islands is a self-governing British overseas territory with the Queen as its head of state.
The British Virgin Islands' premier, Orlando Smith, said they would need long-term help from the UK: "We are a resilient people but this has shaken us to our core.
"A comprehensive economic package for reconstruction backed by the UK Government will be needed over the long-term in order to return to normalcy,"
The UK has sent military planes, and on Sunday the Royal Navy said locals had helped a helicopter crew unload medical supplies, including vaccines.