Slavery checks not fit for purpose at UK firms, report says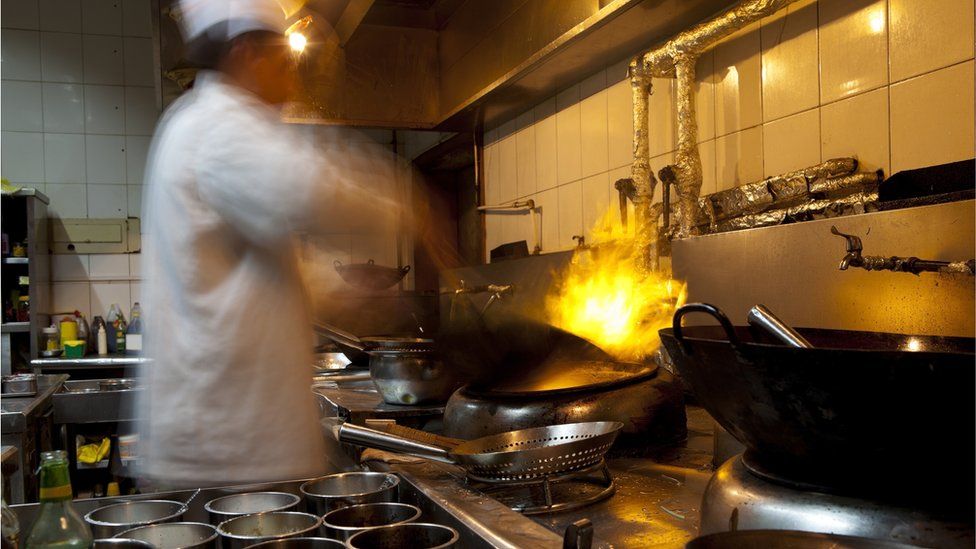 UK businesses are running the risk of employing forced labour because they do not know enough about their staff, researchers have warned.
Firms are realising that often they do not fully trace the backgrounds of workers, a study by the University of Sheffield and University of Bath found.
It means their checks are not "fit for purpose" to uncover modern slavery, according to the researchers.
The government said further changes for businesses might be needed.
Home Office Minister Sarah Newton said the government was "considering what further steps may be necessary" to ensure all large businesses report properly and take effective action on forced labour.
It comes after a warning last month that modern slavery and human trafficking in the UK was "far more prevalent than previously thought".
The National Crime Agency said previous estimates of 10,000-13,000 victims in the UK were the "tip of the iceberg".
The university study, one of the first to examine forced labour in UK companies, focused on the construction and food industries.
Prof Andrew Crane of the University of Bath, the report's lead author, said: "Companies have little hope of detecting modern slavery practices unless they adopt a new approach that focuses specifically on their labour supply chains.
"They need to be able to trace the origin of their employees in the same way as most now can for their products."
Dr Genevieve LeBaron, a politics lecturer at the University of Sheffield, said: "Leading UK companies are starting to belatedly wake up to the fact that their existing systems for detecting worker abuse simply are not fit for purpose for uncovering forced labour."
Labour supply chains can make forced labour "seemingly invisible even when the workers subjected to them are right in front of us" in farms, factories and construction sites, she said.
The use of outsourcing, subcontracting and temporary workers makes it harder to spot victims of slave labour, the report suggests.
Workers facing highly exploitative practices by third party agents may be forced to work for little or no pay, have their passports withheld or tricked into racking up large debts.
Ms Newton, the minister for crime, safeguarding and vulnerability, said: "We are committed to working with business to tackle this hidden crime."
She added that businesses had published thousands of transparency statements since the Modern Slavery Act was introduced into law in 2015.
It requires large UK businesses to produce a yearly statement outlining the actions they have taken to combat slavery in their supply chains.
Last week, a survey from the Chartered Institute of Procurement & Supply found 34% of companies failed to complete the statement.
The survey also found a tenth of UK supply chain managers admitted having found evidence of modern slavery.
Modern slaves in the UK, often said to be hiding in plain sight, are working in nail bars, construction sites, brothels, cannabis farms and in agriculture.
Traffickers are using the internet to lure their victims with hollow promises of jobs, education and even love.
Albania, Nigeria, Vietnam, Romania and Poland are the most likely countries of origin, but some victims are from the UK itself.
There is no typical victim. They can be men, women or children of all ages but it is normally more prevalent among the most vulnerable, minorities, or socially-excluded groups.
Many believe they are escaping poverty, limited opportunities at home, a lack of education, unstable social and political conditions or war. But their slave masters are usually out to make financial gain.
Sexual exploitation is the most common form of modern slavery reported in the UK, followed by labour exploitation, forced criminal exploitation and domestic servitude.