Wall Street dips as Irma heads for Florida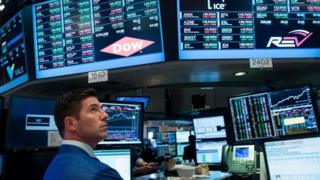 US stocks were mixed on Friday, failing to bounce back after a sharp retreat earlier in the week.
Tech stocks weighed on the markets, with losses at heavyweights such as Apple and Facebook.
But insurance companies, which have been among the worst-hit stocks, were a bright spot, despite concerns over Hurricane Irma heading towards Florida.
The Dow Jones added 13.01 points to 21,797.79, while the wider S&P 500 index shed 3.67 points to 2,461.43.
The tech-heavy Nasdaq index dropped 37.68 points to 6,360.19.
Investors have been cautious in recent weeks, with markets near record highs, tensions bubbling over North Korea and parts of the country reeling from major storms.
Insurers up, tech stocks down
Hurricane Irma has already wreaked havoc in the Caribbean, with some islands devastated by its passage.
But investors may be hoping the damage when it reaches the US will not be as serious as feared.
Insurance firm Travelers Companies climbed almost 4% on Friday, regaining some of the ground lost since last month, when it plunged in the aftermath of Storm Harvey.
Much of the movement on Friday was tied to company-specific events.
Shares in Equifax dropped by almost 14% after the credit report giant said a data breach may have affected 143 million people.
Shares in Kroger Co fell by more than 7%. The supermarket chain said profit fell by almost 8% to $353m in the second quarter, as it slashed prices to keep customers.
Kroger also said it would no longer provide investors with guidance, citing a rapidly changing industry.
Apple shares slid 1.6% after the Wall Street Journal earlier reported production glitches tied to a new iPhone.
Facebook, which drew notice after it disclosed a Russian-funded campaign ad campaign worth $100,000 (£77,000), was down 1.3%.