Amazon kicks off competition for new HQ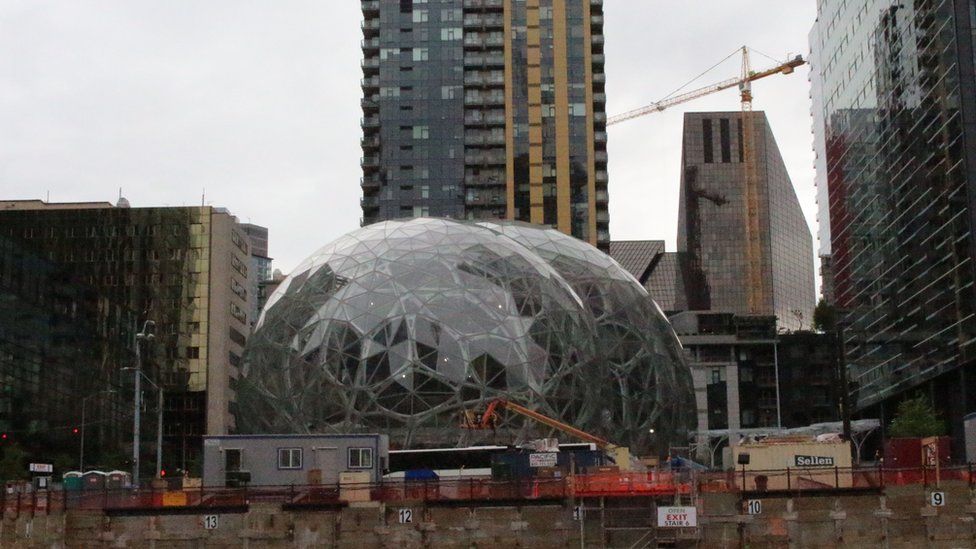 Amazon says it wants to build a massive second headquarters in North America, sparking immediate competition from rival cities to attract what could be billions of dollars in investment.
Officials from Toronto, Texas, Maryland and Chicago were among those who said they planned to try to win Amazon's new venture.
The e-commerce giant is seeking a base for as many as 50,000 workers.
It said it plans to spend $5bn (£3.8bn) on the project over 15-17 years.
Opportunities to compete for headquarters projects are nearly unheard of in the US at the scale Amazon envisions, experts said.
By comparison General Electric plans to move 800 people to a new headquarters in Boston.
"It is very rare," said Craig Richard, vice-chair of the International Economic Development Council. "You don't have a lot of these that happen so when the occasion arises... economic developers jump at it."
Amazon boss Jeff Bezos said the headquarters would be a "full equal" to its headquarters in Seattle.
"Amazon HQ2 will bring billions of dollars in up-front and ongoing investments, and tens of thousands of high-paying jobs," he added. "We're excited to find a second home."
The firm said it is looking for a site in a city area with more than one million people. It wants a location with access to mass transit that is close to major highways and an international airport.
The firm also said incentives offered by local governments would be a "significant" factor in the decision.
Locations such as Austin, Boston, Dallas, Denver, Phoenix, and Toronto shot to the top of list of potential places. Austin is home to Whole Foods, the grocery chain that Amazon recently acquired.
Deciding to build a second headquarters speaks to Amazon's massive growth as well as the breadth of its business, which includes logistics, retail, media and cloud computing, analysts said.
It is unusual for a firm to opt to conduct a headquarters search in the public eye.
But Amazon has a long history of seeking government support for expansions. The firm won more than $240m in subsidies in the US between Jan 2015 and Dec 2016 for its warehouse network, according to a study by the non-profit Good Jobs First.
Greg LeRoy, executive director of Good Jobs First, said a public competition is a negotiating tactic designed to yield better offers.
"Amazon may already know where it wants to go but even if it does, it can stage an auction to up the ante with that place it likes the best," he said.
The firm may also be sending a political message by not limiting the search to the US, analysts say.
Mr Bezos is among several corporate leaders to have broken with US President Donald Trump on issues such as climate change and immigration.
"It's natural for a US company to say we're thinking about creating a new US location," said Gregg Wassmansdorf, a senior managing director at Newmark Knight Frank, who has worked on corporate relocations.
"It takes a little more intention to say we're looking at a North American option."
Amazon said officials should submit proposals - including economic incentive packages - by October 19. The firm plans to settle on the location next year.
Mayors such as John Tory of Toronto issued messages touting their towns, calling his city a "prime candidate".
Officials elsewhere said they were not deterred by the prospect of tough negotiations over a possible incentive package.
"We know it will be a big number but we're going to be aggressive in going after it," said Steve Pennington, managing director for business and industry sector development at the Maryland Commerce Department. "I think everyone will be very aggressive."