Drugmaker Eli Lilly to cut 3,500 jobs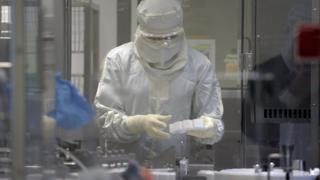 US drugmaker Eli Lilly plans to lay off more than 8% of its global staff and close several facilities in an attempt to reduce costs.
Most of the 3,500 job cuts are expected to come via an early retirement programme for US workers, it said.
The firm, known for making erectile dysfunction medicine Cialis, said the reductions were expected to save about $500m (£382m) a year.
About half the savings would be put toward new medicines.
Eli Lilly, based in Indiana, employed more than 41,000 people globally at the end of June.
Like other US pharmaceutical companies, it is under pressure from lawmakers on drug prices and also faces competition from generic drugmakers.
Eli Lilly chief executive David A. Ricks said: "The actions we are announcing today will result in a leaner, more nimble global organization and will accelerate progress towards our long-term goals of growing revenue, expanding operating margins and sustaining the flow of life-changing medicines from our pipeline."
Setbacks
The company's revenues exceeded $11bn in the first half of 2017, up 8% from a year earlier, with profits of $897m.
But the firm has warned investors that it will start to feel the pinch as patents for blood thinner and ADHD treatment expire. Its exclusive rights to Cialis are expected to end in 2018.
Eli Lilly has also suffered setbacks related to new drugs it has been trying to develop.
In January, the company announced nearly 500 layoffs after an Alzheimer's medicine it was working on failed to yield results.
This spring, the Federal Drug Administration also asked for a further study into a medicine to treat rheumatoid arthritis.
Eli Lilly said it expected the new round of layoffs to be completed by the end of the year. About 2,000 of the cuts are expected to be in the US.
The company is also consolidating work, shifting production from a Larchwood, Iowa manufacturing plant and closing research and development offices in New Jersey and Shanghai, China.
The moves will result in costs of $1.2bn. The company's shares rose more than 2.7% in morning trade on Thursday.