Wall Street lower as investors eye Irma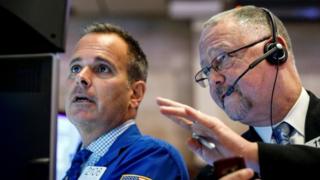 US markets were mixed on Thursday, weighed down after media giants Walt Disney Co and Comcast warned of risks.
Investors are also bracing for the impact of Hurricane Irma, which has battered the Caribbean and led to widespread closings and cancellations.
The Dow Jones shed 22.86 points, falling 0.1% to 21,784.78.
The wider S&P 500 index dipped less than 1 point to 2,465.1 and the Nasdaq index gained 4.56 points, rising 0.07% to 6,397.87.
Comcast shares slid more than 6% after the firm warned of subscriber losses. It attributed the fall to hurricanes and increasing numbers of people turning to online video.
Walt Disney shares fell more than 4% after chief executive Bob Iger said the firm's profits would be flat this year. The company will also take a hit from Irma, with closings of its Florida theme parks and cruise cancellations.
Airline stocks were also lower. JetBlue was down by more than 3% while shares in American Airlines Group slumped by more than 1%.
Shares in Eli Lilly rose 1.3% after the drugmaker announced plans to cut about 3,500 jobs - 8% of its workforce - in order to reduce costs. It said the measures should lead to annual savings of about $500m.