Insurers' victory in battle over motor accident compensation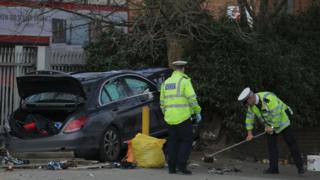 A partial reversal in a change affecting personal injury payouts has been proposed - marking a victory for insurers but potentially reducing compensation for accident victims.
In March, the government introduced a new formula for calculating compensation payments for those who suffer long-term injuries.
The move prompted anger from the insurance industry, which said that premiums had risen as a result.
Now the government has had a re-think.
Following consultation by the Ministry of Justice and the Scottish government, new draft legislation has been published that would change the way the so-called discount rate is calculated.
This would need to be agreed by Parliament - a process that the government said would take months, not weeks. If it becomes law then insurance premiums could fall slightly, but compensation payouts made to about 3,000 people in motor accidents a year could fall too.
---
How compensation works
Accident victims are paid compensation in a single lump sum, which in serious cases is supposed to support them for the rest of their lives.
But someone who receives that lump sum can actually increase that amount by investing it, and getting a cash return.
So to be fair to insurance companies, the payout was reduced accordingly.
That changed in March when this so-called discount rate was changed for the first time in 16 years
The Ministry of Justice decided to reduce the discount rate from 2.5% to minus 0.75% - a move which it said was determined by existing law.
The change was ordered because the formula assumes the victim will invest his or her money in government bonds.
But such interest rates - or bond yields - had fallen and had become negative, meaning accident victims would actually be losing money in real terms over the long run. The British Insurance Brokers' Association argued that victims would pick better investments than government bonds.
The change in March means insurance companies are paying a premium to accident victims, rather than getting a rebate on the sums they pay out.
Now the government is planning to change the rules. The Ministry of Justice said that, if the rate were set today under the new approach, it might end up within the range of 0% to 1%.
In other words, the rebate would return for insurers, theoretically cutting premiums, and payouts, again.
---
Justice Secretary David Lidington outline the draft legislation, affecting England. Wales and Scotland, on Thursday. Proposals include a panel of experts reviewing the rate every three years. made up primarily of actuaries.
The move has been welcomed by the insurance industry, which had described the original cut in the discount rate as "crazy".
Huw Evans, director general of the Association of British Insurers (ABI), said: "This is a welcome reform proposal to deliver a personal injury discount rate that is fairer for claimants, customers and taxpayers alike.
"The reforms would see the discount rate better reflect how claimants actually invest their compensation in reality and will provide a sound basis for setting the rate in the future. If implemented it will help relieve some of the cost pressures on motor and liability insurance in a way that can only benefit customers."
Premiums
Accountants PwC have suggested that this might not actually mean a fall in premiums, but instead would prevent future significant rises.
"Premiums had already risen by about £75 on average and about £250 for young drivers following the original discount rate announcement earlier in the year as insurers passed on roughly half of the expected costs caused by the original rate move," said Mohammad Khan, UK general insurance leader at PwC.
"If this announcement had not been made, insurers would have been forced to pass on the remaining costs and annual motor insurance premiums would have risen again in November and December by an average of £100 for UK motorists and by between £300 and £500 for young drivers."
Insurers, whose profits were hit by the original move, saw their share prices rise slightly after the latest announcement.
"While the industry was prepared for a change to the discount rate, [the move in March] was a lot harsher than anyone had planned. Today's changes won't be applied retrospectively and will take time to take effect, but they should be cheered by investors," said Neil Wilson, senior market analyst at ETX Capital.
However, the move was not greeted as enthusiastically by lawyers who act on behalf of accident victims.
Brett Dixon, president of the Association of Personal Injury Lawyers (APIL), said: "The discount rate must be set to meet the needs of catastrophically injured people. Someone with a life-long, life-changing injury such as brain damage or a spinal injury cannot afford to take any risks with how his compensation is invested. He needs the money to keep a roof over his head, to fund his equipment, and to feed and clothe him and pay for his care for the rest of his life.
"The last thing people with devastating injuries think about when they are lying in hospital is their insurance premiums. They think about how they are going to manage. Insurers say an increased discount rate will benefit customers through their premiums. It is of no benefit if they are severely injured and forced to take risks with the compensation they so desperately need."