US stocks higher after debt limit deal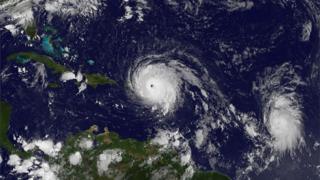 US stocks closed modestly higher on Wednesday, gaining back some ground after Tuesday's losses.
Analysts said the increases reflected relief after US lawmakers announced a deal to lift the debt ceiling, shelving a fight over US borrowing for now.
Energy and consumer stocks led the gains, while telecommunication companies lagged.
The Dow Jones added 54.33 points, rising 0.25%, to 21,807.64.
The broader-based S&P 500 increased by 7.69 points, gaining 0.31% to 2,465.54 and the Nasdaq was up 17.74 points, climbing 0.28% to 6,393.31.
Wall Street had closed sharply lower on Tuesday, as concerns increased over military build-up by North Korea.
But worries over that fight receded on Wednesday, while disruption caused by Hurricane Irma took centre stage.
Hurricane Irma has already hit several Caribbean islands and could hit Florida at the weekend.
Home Depot, which is likely to benefit from reconstruction efforts related to Irma and storm Harvey, was among the Dow's major winners, rising almost 2.4%.
Chevron and Exxon Mobil also each rose by more than 2%, as oil prices gained and activities halted by Storm Harvey resumed.
Gap was up by more than 7% after it said it would focus efforts on its lower cost brands and close about 200 Gap and Banana Republic stores over three years.
Expedia shares sank after Trivago, in which it has a major stake, said revenue and profit growth would be weaker than expected.