Sports Direct chairman Keith Hellawell survives vote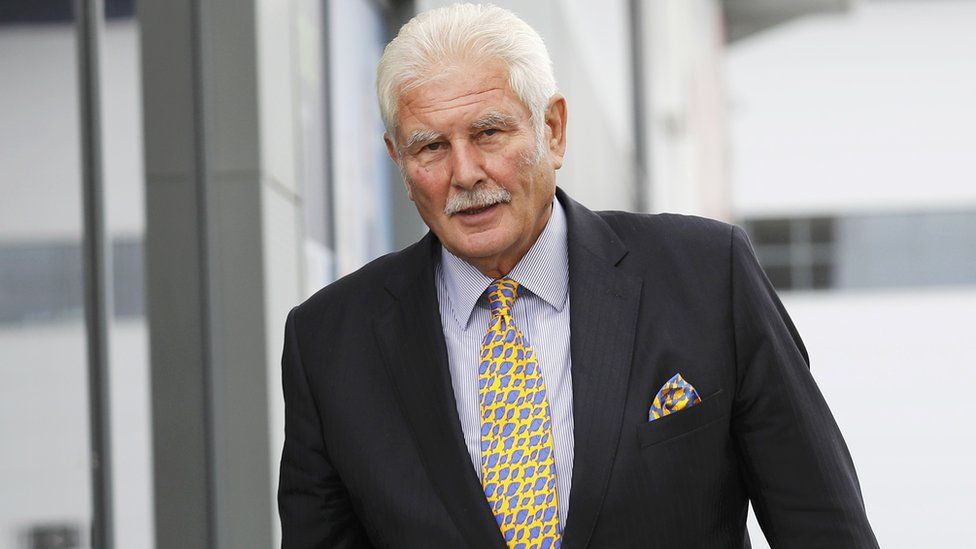 Sports Direct chairman Keith Hellawell has narrowly survived an attempt to oust him.
Mr Hellawell was re-elected to the post at the retailer's annual general meeting, but he only won the backing of 53% of independent shareholders.
Several prominent investors voted against him amid concerns about the way the business is run.
Sports Direct has faced criticism for its treatment of workers and the influence of founder Mike Ashley.
A significant proportion of independent shareholders, 47%, opposed Mr Hellawell's re-election.
Paul Lee, head of corporate governance at Aberdeen Standard, said Mr Hellawell had become "a lightning rod" for shareholders' concerns about corporate governance.
Aberdeen Standard and Royal London Asset Management were among the shareholders who voted against his re-election.
Ashley Hamilton Claxton, corporate governance manager at Royal London, said Mr Hellawell had "survived by the skin of his teeth".
"The result of the vote doesn't let Sports Direct off the hook for its corporate governance failings," she added.
Fund manager Hermes also recommended shareholders to make the protest vote.
Two shareholder advisory groups, Pirc and the Institutional Shareholder Service, encouraged its members to do the same.
Mr Hellawell received 88% of votes in favour when Mr Ashley's stake was taken into account.
It is not the first time shareholders have signalled their concern.
Mr Hellawell survived a revolt by independent shareholders in January.
At the time almost 54% of independent shareholders voted against his re-appointment.
However, the former chief constable of West Yorkshire was backed by Mr Ashley, who owns 61% of the business.
At the latest meeting on Wednesday, which was not attended by Mr Ashley, the firm faced fresh calls for a review of working conditions.
But its decision to leave temporary staff on contracts without a guaranteed number of hours was defended by Mr Hellawell.
"While that still is a legal form of employment we will choose if we wish to continue with that form of employment," he said.
"A very large proportion of our workers are happy to maintain that flexibility."
Richard Greening, chair of the London Borough of Islington pension fund which is an investor in the firm, called for a "truly independent" review of working practices and corporate governance.
Sports Direct closed 1.1% higher at 389.6p.
Earlier, the firm said it was still "optimistic" about this year's profits and confirmed it now owns 100% of designer clothing retailer Flannels.