Travel disruption as Hurricane Irma forces flight cancellations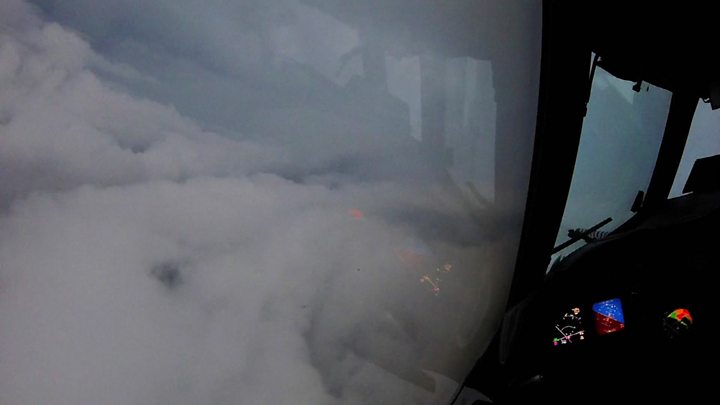 Caribbean travel plans have been thrown into chaos as flights are disrupted by Hurricane Irma sweeping across the region towards the US coast.
Irma, coming days after the US was hit by Hurricane Harvey, has been upgraded to a category five, the highest.
Puerto Rico, a major flight transfer hub for the region, has declared a state of emergency.
British Airways cancelled a flight from the UK on Tuesday and, with Virgin Atlantic, changed return schedules.
On Tuesday, British Airways cancelled its flight to Antigua, which was then due to continue to Tobago.
BA sent an empty aircraft to Antigua to bring travellers home early. The full flight of 326 passengers left the island early evening on Tuesday, UK time.
Antigua's airport will be closed on Wednesday.
"The safety of our customers and crew is always our priority," BA said in statement. "We have offered all customers due to travel to the region in the coming days a range of re-booking options and are keeping our flights to the entire region under review."
Virgin has brought forward its flight from Antigua to the UK by five hours. A spokesman said the airline was monitoring the strength and direction of Irma before changing more schedules. "We may need to make some changes or cancellations," he said, and urged customers to check with the airline before travelling.
Flights between many of the islands, which include the Dominican Republic, Guadeloupe, and the British Virgin Islands, have been cancelled.
On Tuesday, American Airlines cancelled its schedules to the islands of St Kitts and St Maarten,
Hurricane Irma 'extremely dangerous'
Texas recovery from Harvey 'could cost $180bn'
For Wednesday, Puerto Rico's San Juan airport has cancelled 85 flights, about 40% of services. The island's governor Ricardo Rossello described the hurricane as "something without precedent".
'I'm nervous'
The US Virgin Islands' seaports were closed to everything except essential traffic.
The threat of Irma to cruise ship tourism hit shares in big operators including Carnival, Norwegian Cruise Line, and Royal Caribbean Cruises. Their shares fell between 3%-4%.
One hotelier on Antigua told the Reuters news agency that his property's window were being boarded up and that coconuts were being stripped from trees.
"I wasn't that nervous yesterday, but today I'm nervous," said Gary Randall, head of the Blue Waters Resort. He expected the beach to be swept away and the hotel to be flooded.
Shares in insurance companies with an exposure to Florida slid as investors weighed up the likely financial impact of Irma. Heritage Insurance and Universal Insurance both fell more than 15%.
The National Hurricane Center (NHC) said on Tuesday that Irma was "potentially catastrophic". It said the hurricane was currently on track to hit the northern Leeward Islands early on Wednesday, and possibly the Florida Keys by the weekend. Florida has also declared an emergency.
The Center said Irma's winds may reach 180 miles (280 kilometers) per hour. "These rainfall amounts may cause life-threatening flash floods and mudslides," the NHC warned.
The UK's Foreign and Commonwealth Office has urged travellers, tour operators and hotel owners to "follow the advice of the local authorities".
Residents in two US states, Texas and Louisiana, are still recovering from the effects of Harvey, which struck as a category four storm, causing heavy rain and destroying thousands of homes.